Nadula Wholesale Best Kinky Straight Hair Weave 3 Bundles Virgin Human Hair Extensions Cheap Remy Hair
Nadula Kinky Straight Hair Bundles 8in-26in,True Virgin Hair Straight Weave,Soft Kinky Straight Hair Weave 3 Bundles For Sale
Log In To Check The Member Level
Golden Wednesday Sale!

Extra 6% Off For All, Code:

JA6
Questions & Answers
Q Can this hair be colored
A yes dear
the hair can be colored since the hair is 100% human hair
Answer this question
Q
Can this hair be colored
N***e
NEW
Bought
yes dear
the hair can be colored since the hair is 100% human hair
21.11.28
0
Q What is the silkiest texture in this type of hair
A Hi
I suggest the Brazilian hair
Answer this question
Q
What is the silkiest texture in this type of hair
N***e
NEW
Bought
Hi
I suggest the Brazilian hair
21.11.20
1
Q Please How Do I make orders for hairs for business
Come And Help Answer It
Answer Question
Q
Please How Do I make orders for hairs for business
Success
Your Question Has Been Submitted.
Product Details
Reviews(11)
Suggested Video
Shipping & Payment
Seller Guarantees
Size & Measurement
The hair arrived within seven days. The hair ia nice and soft and has minimal shedding. It does not tangle easily. I purchased the 18/18/20. I wish the bundles were a little fuller but they did the job. I'll definitely order from Nadula again.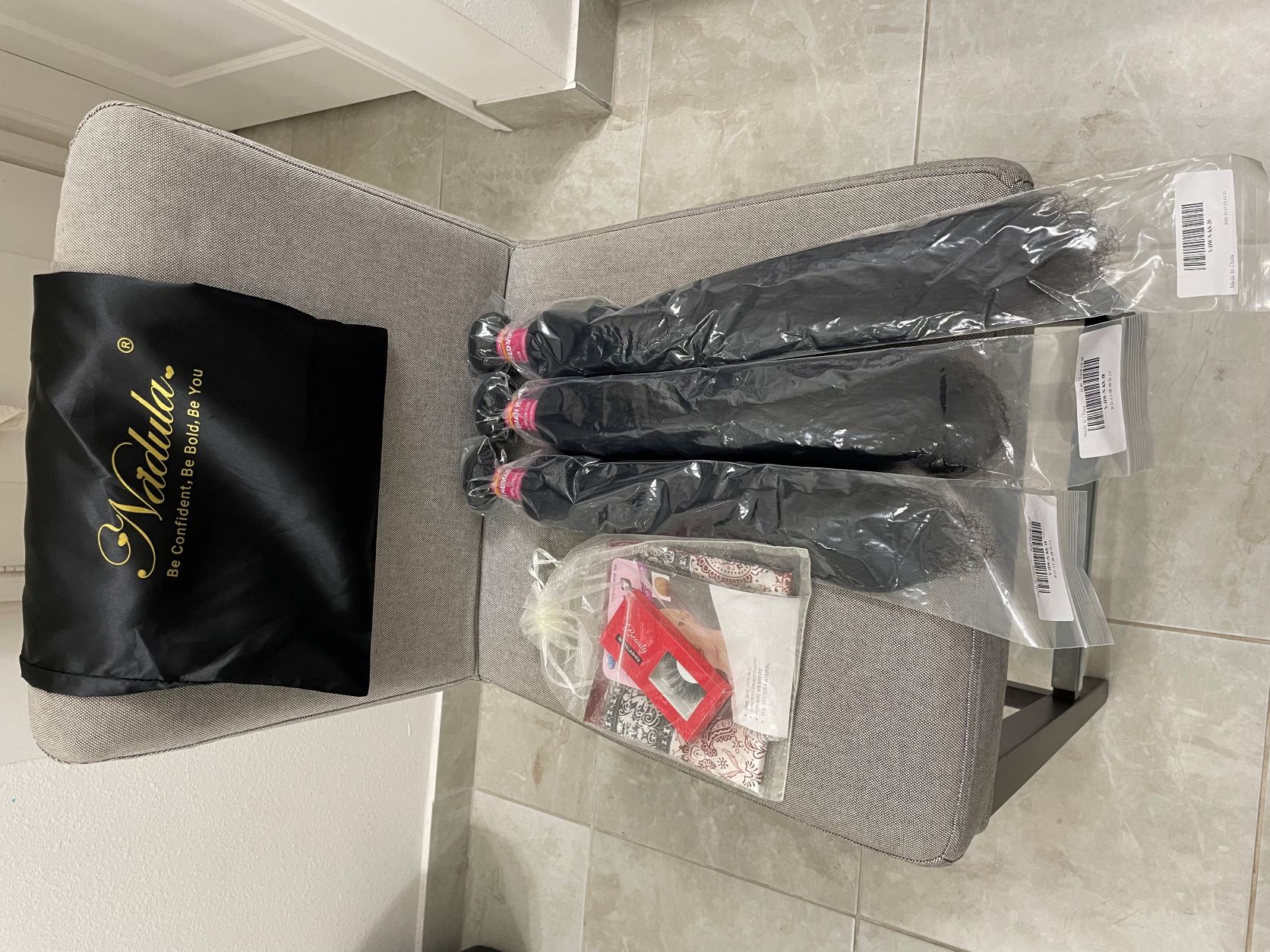 21/10/12
These bundles are absolutely beautiful! I asked for silkier kinky straight bundles and they came thru. My client is going love this hair.
I've been purchasing Nadula hair products since 2012 and they never disappoint.
2021/08/14
3
I'm so happy with my purchase. Item is as described. Hair is soft, no tangling. Customer service was great. Hair shipped quickly. Will definitely get my bundles from here from now on!
2021/05/28
2
The quality of this hair is great for the price! I purchased a 14,16,18 Brazilian bundles. The hair came super soft and had no smell.
The shipping was pretty fast, I order it on July 8th and received it on July 14th. I used this hair for a sew in and was only able to fit about 2 and a half bundles In my head, the hair is very full & thick! The hair does take heat well and is also definitely true to length. So far I've had this hair for a little over a month and the hair quality has remained the same. Like I said used these bundles for a sew in and this hair blends AMAZINGLY with my leave out/natural hair! Everyone actually thinks this is my real hair! I get so many compliments! The hair doesn't tangle or mat and the shedding is VERY minimal. I will definitely be ordering this hair again in the future.
2021/09/01
1
two days shipping so fast meh and quality hair.i will keep buying from them
2020/12/31
1
you know good products can really change your life
2020/12/28
1
This hair texture is very similar to my real hair and the quality is great. The bundles are long and full. I got other similar hair at the same time and these bundles are fuller especially at the ends. The shipping was faster than expected during Covid
2020/12/15
1
Great nice bundles
2021/08/12
0
Was expecting a little more volume but it was worth the buy :-)
2021/06/12
0
Very nice hair I was a little disappointed in the shipping I was expecting to receive it fairly quickly based on other reviews but it took just over one full week apparently there was a customs issue and when I did receive the package the outside bag was a little distressed looking but the hair inside was completely bagged separately and inside another very nice bag. The hair I received was very soft true to length and the ends of the hair are extremely full with no split ends and no smell. I will come back next week and update my review because I had to reschedule my install appointment because the hair took longer to come than expected.
2021/06/04
0