Are you looking for easy back-to-school hairstyles? How to create a youthful back-to-school hairstyle in no time? How to make your hairstyle for the new school year change from monotonous to exciting? Then unique heatless hairstyles are a better way. Today in this blog we will introduce you to 10 super easy and heat-free hairstyles that will make you look youthful and radiant. Read on for more inspiration.
1. Easy Claw Clip Hairstyle
This is a super pretty and cool grab hairstyle. It has been very popular in the past two years, and it is also one of the biggest hairstyle trends in summer. Hairstyles with claw clips always look lovely, are super convenient, won't damage your hair, can be worn in a variety of ways, and are easy to match with a variety of outfits. Definitely a great back-to-school hairstyle.
2. Cat Ear Braid Hairstyle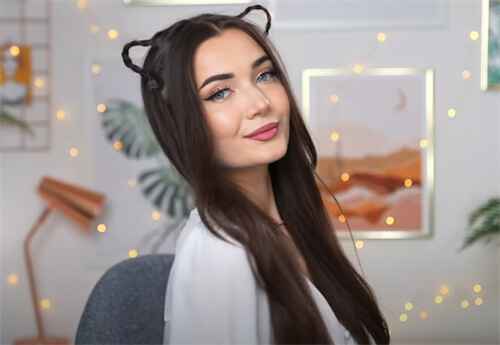 This hairstyle looks really cute and is so easy. First, comb the hair smoothly, part the hair in the middle, and then take a small piece of hair on the top of the left head, and then divide this piece of hair into two parts into three-strand braids, and tie them with rubber bands after completion. The next step is to create a cat ear shape. Take a slightly upper braid and fold it up into a cat ear shape and tie it to the appropriate position of the other braid with a rubber band. After the fixation is complete, you can spread out the unwanted braids below to blend into other braids. Hair, cat ears hairstyle is complete. The next step is to create another kitten ear and repeat the same steps on the other side. look! It's so cute and charming.
3. Dutch Braid
The Dutch braid hairstyle looks like a more refined hairstyle where all the hair is braided together on the sides for a chic and sophisticated girly look.
4. Double Braided Headband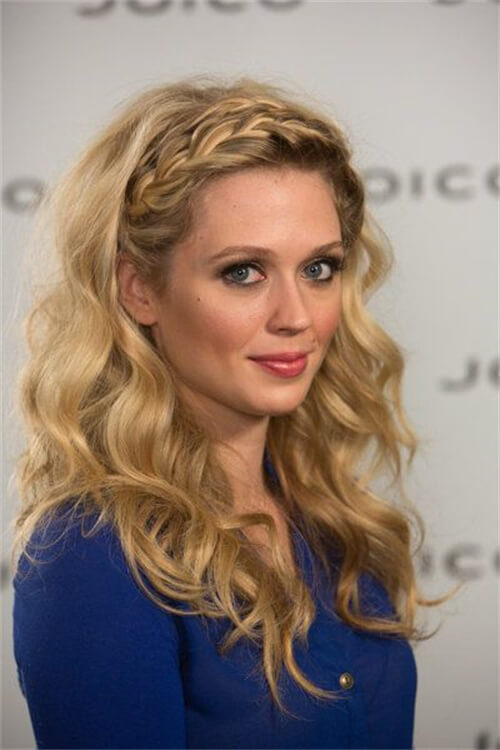 If you are obsessed with elegant style and like to show the graceful temperament of women, then the double-braided headband is definitely for you.
First, you need to grab a small section of hair from one side and braid it into a simple three-strand braid, preferably near the ears. After the three-strand braid is completed, tie it with a rubber band and place it up around the top of the head, and finally tie the end of the braid with bobby pins secured behind the ear on the other side. Do the same for the other braided headband.
5. Super Chic Ponytail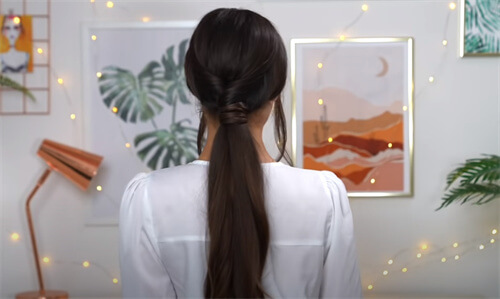 Summer ponytails must be indispensable, how to make your own ponytail look more unique, then I will tell you a simple method.
First, comb your hair smoothly and part it in the middle. If you like bangs, you can pull a part of the dragon beard hair on both sides of the face to modify the shape of the face. Then take all your hair to the back, divide them evenly into thirds, and secure each with an elastic. Next, starting from the far left, use your fingers to create a small hole in the middle of the left strand of hair, and then turn the ponytail from the bottom up through the hole. Repeat the same steps for the hair on the right. Then loosen the left strand a bit to make the hole bigger and thread the middle strand through the large hole in the left strand. Then loosen the right hair strand to make the hole bigger, then pass the middle and left hair strands through the right hair hole together, and adjust the position of the elastic band and ponytail. Finally, take a strand of hair under the ponytail, wrap it around the entire hair cross (where the rubber band crosses), and secure it with bobby pins, doing this will hide any ties in your hair. There you go, this super chic ponytail that looks like you put a lot of effort into it, but is actually quite easy to do.
6. Small Bubble Hairstyle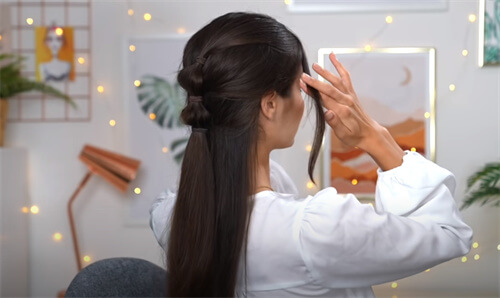 Bubble hairstyle is a very simple and refreshing hairstyle, suitable for summer street photography, parties, and travel, and of course, it is also a very popular back-to-school hairstyle. It has a variety of styles. As you can see this bubble-back hairstyle, is very simple to create, stylish, and can be done in less than a minute.
7. Girly Ponytail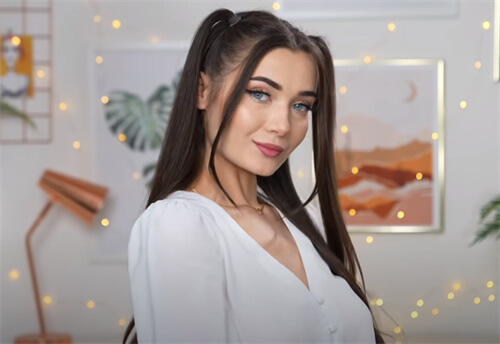 If you like lively and cute hairstyles, this girly ponytail is a good choice. First, comb the hair and part it from the middle, pull out a small strand of hair to frame the face. Then start from the left or right (depending on which side you are used to). Take a small section of hair from above the left ear to the top in the middle and tie it into a ponytail and secure it with an elastic. Repeat the same method on the other side. Look, this small and cute girly ponytail is finished, how fascinating it is.
8. Loose Bun with Two Braids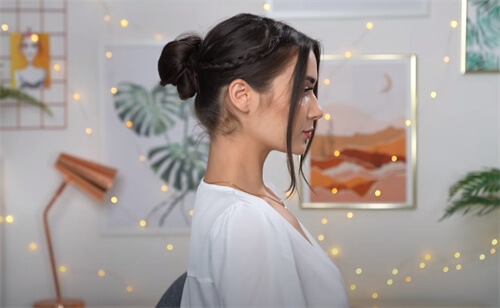 This is another super popular hairstyle that looks classy, elegant, and relaxed. A lot of people rock it, especially a lot of celebrities on Instagram who have worn it. First of all, you can set aside the dragon beard bangs or baby hair to modify your face shape. Then leave a small bunch of hair on both sides and braid them into three-strand braids, and fix them with rubber bands. Then focus on the rest of the hair, pulling it into a medium-height ponytail, twisting it into a very loose bun, and securing it again with an elastic. Once the bun is created, place the two small braids are looped around each side of the chignon, looped over and over, and finally secured in place with bobby pins, and the hairstyle is complete. Honestly, it's so easy and it looks really cute.
9. Top Knot Bun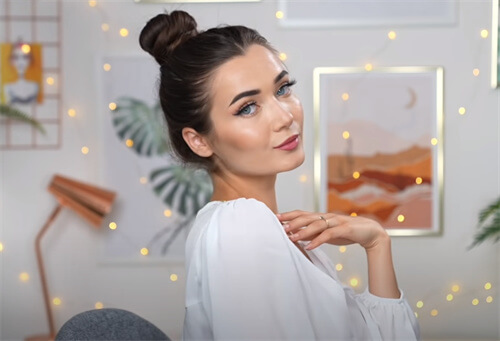 Top knot bun looks very noble, with the elegance of a ballet girl. This hairstyle is also very easy to create, you only need to comb the hair smoothly, then tie all the hair into a high ponytail, then twist the ponytail to form a high and fix it with a rubber band, and this beautiful hairstyle is completed.
10. Rope Braid Ponytail
A high ponytail hairstyle with rope braids can also make your look more dramatic, and it's so easy to do. Comb through hair first to remove knots and tangles. Then tie the hair into a high ponytail, then divide it into two equal parts and twist the two parts in the same direction. After tightening, the two parts are intertwined and fixed with rubber bands. An interesting and playful high ponytail rope braid is done.