Buy Now Pay Later Hair Bundles And Wigs -Zip Quadpay Hair
Buy Afterpay Wigs From Nadula!
LOW-INTEREST RATES!
Buy your hair wigs and extensions now and pay later!!! Are you searching for hair stores that accept Zip Quadpay? Or afterpay stores that offer afterpay wigs, bundles afterpay, or wig companies that use afterpay? Now your dream can come true, Nadula.com is one of the hair companies that accept afterpay!
You need not worry about the payments for your fashion products. Enjoy your party time and get gorgeous without paying even a single penny. Nadula the leading brand in hair products is now offering payment through Afterpay, Zip Quadpay, Klarna, Paypal, and Affirm.
Nadula Hair, the renowned brand of virgin human hair, is becoming increasingly popular among lovers of human hair in America, Europe, and many other regions. Not just a hair brand, Nadula is like a lifestyle that helps people to find and appreciate their true personalities. Express the real self, share and sustain enhancement through live streaming and regular posting via Nadula Website to be a better me.
Nadula has an immense range of hair products, all 100 percent human virgin hair—in every style and color, hair weaves, hair wigs, lace closures, and frontals. Body Wave, Smooth, Curly, Loose Wave, Deep Wave, and Natural Wave, kinky curly, kinky straight for your preference, various hairstyles. Fashionable and easy, Nadula helps at an affordable price to get you the natural extension.
BUY NOW. PAY LATER. Now you can shop online with Nadula and use Zip Quadpay as a payment method that allows you to order your product free of cost and pay later in installments.
HowTo Use Zip Quadpay In Store:
Using Zip Quadpay you can Split any payment into 4 installments in-store and online. It is really easy to use Quad Pay, just follow the below-mentioned steps:
Choose the Zip Quadpay option when you check out with one of its partner retailers or shop at any online store that accepts Visa.
Link your existing credit/debit card with a quad pay account.
Enter your purchase amount
Swipe, dip, or tap to pay anywhere
Installment process:
You can get your product delivered at no cost and pay later in installments; your order is split into 4 installments paid over 6 weeks. Zip Quadpay will charge your linked card and complete your payment in 6 weeks. It does not have any hidden charges and no extra fee.
Benefits:
Some major benefits of quad pay include:
Lower interest rates than others
Automatic deductions
Instant approval
No hard credit checks
Pay early
Returns and refunds
Are there any fees to use Zip Quadpay Checkout?
A: Zip Quadpay offers LOW-interest installment payment plans. The Calculation method is:
Interest-fee = Order amount x 4%+0.3
And pay in 4 installments:
Order day +Second week +Fourth week+ Sixth Week
For example: If your order is $49.7,you will pay for every installment :
(49.7x1.04+0.3)/4= $12.93(≈$13).
The fee is an auto deduction and you will receive a message or email notification at the same time. And there will be late fees if it is overdue.
To be compliant with all states, Zip Quadpay have updated their policy on late fees. Because of this, if your order is late, you may incur an initial late fee of $5, $7, or $10 depending on your state of residence. Check the details here: late fees.
Is Zip Quadpay safe?
Yes, payments via Zip Quadpay are secure. But it is important to bear in mind that the company may report late payments or defaults to major credit reporting bureaus, even though Zip Quadpay does not demand a hard credit check. Your credit score may be impacted negatively by this.
Nadula provides a range of products for hair that will enhance your beauty and give you a natural look and style. We have almost all sorts of wigs made of synthetic and human hair. Recently, on the demand of our clients, we have launched our latest products that are provided with extra beauty and quality. Also, you can click here to learn more about Zip Quadpay: Zip Quadpay FAQ On Nadula Hair
$77=18'' Top Kinky Straight lace Wig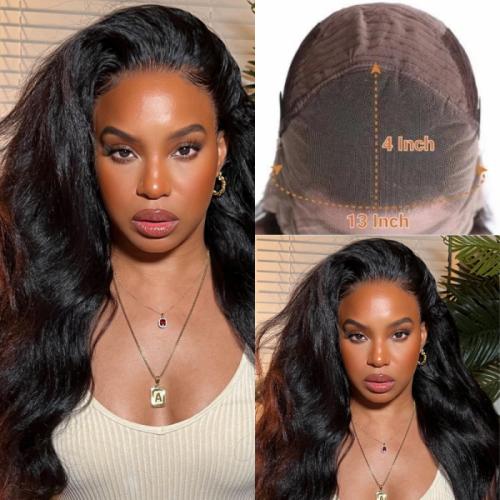 Rose Red Highlight Wig
Reddish Brown Wig
$180 Affordable Kinky Curly Wigs With Pre Plucked Natural Hairline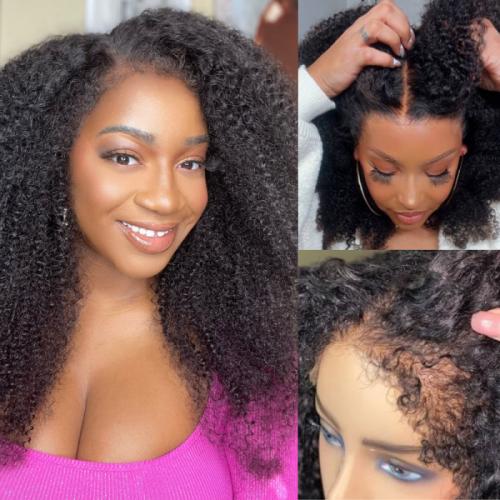 Glueless V Part Wig For Beginners
Long Face Framing Highlights Wigs Honey Blonde Balayage
This is new arrival! This is a 4x0.75 inch lace part wig With face frame balayage on brown hair. The hair texture is real human Remi hair, which means it will not tangle at all. This color is fashionable and welcomed by most customers Now. The loose Wave hairstyle fits this color very well. So much suitable for the summer. Just click to shop it with a big discount Now.
13x4 Lace Front Wigs Body Wave
The 13x4, or 13*6 lace wigs mean the lace base is 13x4 inch or 13x6 inch. And the hair is hand-tied on the lace base. Others are machine-made. They are a kind of fashionable lace wig that is well-known by users and their price is not very high. Compared with other wigs, lace frontal wigs are more light, comfortable, and easy to wear. Nadula Remi lace front wigs are available in pure black color with short bob style with an offer of 40% discount and consist of 150% dense hairs that will provide a cute look to your personality. You can select the hot selling lace wig by clicking the below picture. It is shedding-free and has no glue needed.
13x4 Lace Front Wigs Straight
The 150% density high quality straight human hair wigs for women is made of natural black Remi human hair, 12-28 Inch. tangle-free, no shedding, soft & bouncy. This virgin Remi hair acts naturally, shed free, and comprises thick & strong strands,not easy to break. The lace base is Swiss brown lace which is very close to our scalp. Delivery time is very short after order is placed: USPS overnight 2-3 business day; USPS 3-7 business days; DHL/UPS 5-10 business days.
Brown Straight Human Hair Wigs
The medium brown lace front wig is a T part lace wig. According to your skin tone, you can select the lace color. The wig contains straight hairs with a center part only, 4*0.75 Inch Lace Part Wigs. It is styled with baby hair and thick, 150% dense lace. Available in different lengths starting from 14 – 24 inches, It can be styled in different ways and is available at a 40% discounted price.
Water Wave Headband Wigs Short Hair
There is a trendy short half curly wig commercially available with a 150 percent extra density human hair headband in pure natural black hair that can increase the ways to get styled. It is machine-made but 100 percent virgin hair, tangle-free, no shedding, soft & bouncy. The hair length would be between 10-14 inches. Nadula is offering a special 40% discount on every purchase. So let us start shopping with Nadula.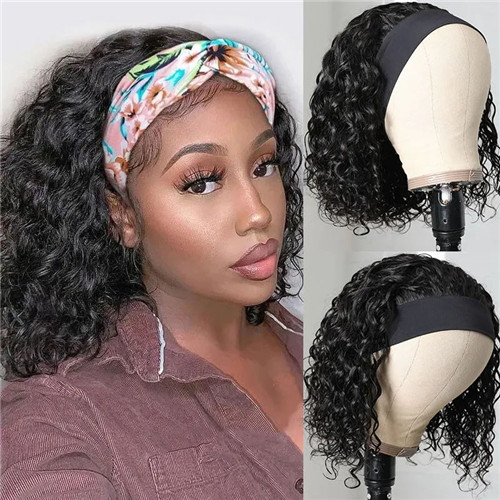 3 Bundles Virgin Human Hair Weave
Nadula is now offering unprocessed 3 bundles of virgin human hair weave with closure. It is cost-effective and recently available at a 25% discounted price, it is a T part lace closure, to enhance your beauty. Usually, 3 bundles with closure or 4 bundles with lace closure are enough to make a full head weave, shorter length hair bundles are thicker than longer hair. Nadula is offering a range of hair closures and hair weft lengths. You can also select the hair type among Indian, Brazilian, Peruvian, or Malaysian. It is up to you to select from the range of options available for several types of fashions. It has a unique glamor and beauty.
13 By 5 By 0.5 Inch T Part Lace Wig
You will get lace on the sides and in the center of the parting space for a T part wig, which creates a 'T' shape on the wig, from ear to ear. The handmade lace area is the same as the lace front wig from ear to ear (13 inches), but not enough lace on the back for free parting. You can part it from the middle and the part will be 5 inches deep that have a Uniqueness. It is comprised of straight human hair Curling Iron Safe, High Quality, Easy to Style, and Manage. A 40% discount is available on shopping from our website.