Brunette hair color has a charm and appeal that will never go out of style, despite being thought of as a basic color. The applications for brownish pigment are virtually limitless because of the vast range of dimensions and colors it offers, from sweet caramel to chocolate cherry brown.
There are a few things that might help you decide on the loveliest hue, whether you want to enhance your natural hazelnut hair or have been considering altering your existing color.
This article will help you to choose the ideal brown hair color, tips to increase the longevity of your hair color, and all other things you need to know about brunette hair color.
What is Brunette Hair Color?
The term brunette means Brown Haired Woman.
Brown hair is the second most common human hair color, after black hair. It varies from light brown to medium dark hair. It is characterized by higher levels of the dark pigment eumelanin and lower levels of the pale pigment pheomelanin.
Varieties of Brunette Hair Color
Brunette hair color comes in a wide variety of shades from the very darkest brown (almost black) to the lightest brown (almost blond) showing small signs of blondism. Shades of brown hair include:
Deepest Brunette: the darkest brown, which can be a very dark chestnut; sometimes appears to be off-black at a distance, and is often considered to be black.
Dark Brown
Milk Chocolate Brown
Dark Chestnut Brown
Light Chestnut Brown
Medium Brown: standard brunette, comparable to Russet brown
Walnut Brown: a warmer variant of medium brown, comparable to a light chestnut
Caramel Brown: warm brown tone.
Light Golden Brown: the lightest brown, almost dirty blond
Mousy: a dull light brown color, sometimes seen as a dirty blond
Light Ash Brown: almost blond hair
Lightest Brown: light brown that goes mid-blonde in the sun
Maple Brown: a dark golden-brown color, like maple syrup
How To Find the Best Brown Hair Color Shade for You?
You probably are aware that choosing hair colors for your skin tone is crucial, but synchronizing your hair color with your skin's undertone can make all the difference. Turn your wrist over and observe your veins to determine your skin's undertone. Green veins imply warm undertones, whereas blue veins indicate cool undertones.
In general, cold skin undertones should be coupled with cool under-toned hair colors, while warm undertones should be paired with warm under-toned hair colors.
Fair Skin with Cool Undertones:
If you have a fair complexion, don't believe you have to stick to a blonde hair color pallet.
Lighter ash brown and chestnut hues can be used to make brunette hair work for you.
These hues have cool undertones that won't seem too harsh on your complexion and will quickly brighten it up.
Subtle face-framing highlights may make this brown hairstyle appear everything from monotonous.
Fair Skin with Warm Undertones:
Rich caramel highlights are your greatest friend if you have fair skin with warm undertones since they are on the lighter side and create a delicate contrast with your complexion.
To achieve a brunette hairstyle, you can apply lowlights in deeper tones for greater depth and texture. Use shampoo infused with conditioner to help maintain the shine of this brunette hair color.
Medium Skin with Cool Undertones:
Cool, ashy brunette hair color hues look best on complexions with cool, olive undertones and don't wander too far from the skin's undertone. It's ideal if you want to test a brunette hair color but want something lighter. Choose a shampoo that helps preserve the brilliance of your color without stripping your hair to keep it looking its best.
Deep Skin with Neutral Undertones:
If you have problems detecting the color of your veins and discover that they are somewhere between blue and green, you most likely have neutral undertones. Any hair color will look well on you, but a dark shade of brown with rose gold ends is ideal. It's great for trying out a light accent color.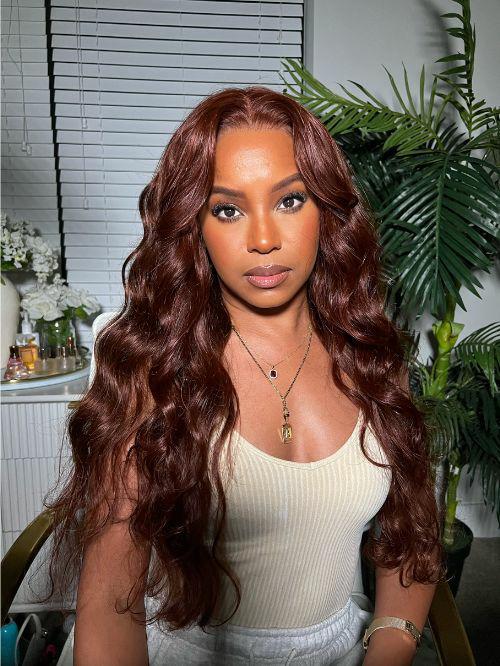 Tips To Achieve and Maintain Natural Brunette Hair Color
Ingredients Matter
Always use shampoos, conditioners, and stylers labeled "safe for color-treated hair." These products are free of sulfates and parabens, which can diminish brunettes or bring out undesirable red or gold tones (aka brass).
Deep Condition
Get ahead of process-worn locks by using a hydrating deep conditioner the day before and once a week after that. It'll provide your hair the hydration it needs to avoid breakage and dullness.
Avoid The Suds
Truth be said! Water dries off hair color. However, you may decrease the fade by limiting your washes and investing in a decent dry shampoo for off-days. Because it contains panthenol and vitamin E, it may wash hair without drying it out.
Swimming Condition
Chlorine may be color kryptonite between dried-out strands and changed tones. But don't let it stop you from going to the pool! To avoid over-chlorination, moisten the hair with tap water and apply a small amount of conditioner before diving in.
Wear A Hat
We're just going to say it—the sun is a big perpetrator in the issue of fading of human hair wigs. Cover yourself every time you go outside to extend the life of your shade (and protect yourself from UV radiation).
Stick To Your Roots
When applied to already colored hair, it may result in over-processing or uneven results. To keep your brunette looking vivid and dimensional, limit touch-ups to regrowth and prevent overlapping.
Care For Your Color
Maintain your vibrancy between applications by using an intensifying treatment like our Tint Rinse – the colorist's secret weapon at Salon. It comes in a variety of hues, allowing you to tailor your treatment and avoid the lightning that might occur over time.
Use Cautiously
Applying heat with styling products, whether straight or curly, can make hair more porous, making it more difficult for the strands to keep color. Protect against thermal aggressors and keep color vibrant with a heat protectant.
Turn On Your Shine
Using a shine enhancer, you can keep your locks looking dazzling and healthy. It will not only hydrate and shine your hair, but it will also protect it from the color-fading sun.