What is a water wave wig?
A water wave wig is a wig with water wave style, this wavy wig looks like a wind-blowing water wave that shows "s" shape. Usually, the water wave wigs are made of lace base and human hair or other synthetic materials. As human hair is more natural and similar to our real hair, so water wave human hair wig is welcomed by most of the consumers.
Different types of water wave lace wig
Water wave lace wig refers to the kind of lace wig that is styled in water wavy texture. This texture is one of the hottest trends among lots of women, especially black women.
To satisfy different requests, sellers have introduced different types of water wave lace wigs, like water wave lace front wig, water wave headband wig, water wave full lace wig, etc.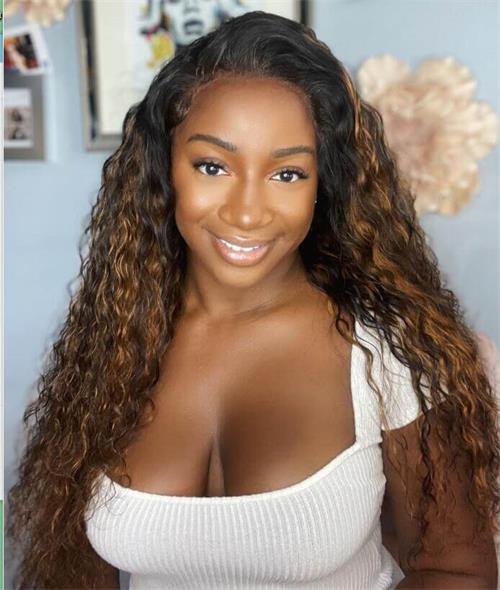 Why you choose water wave wigs?
For every one of us, choosing a product no doubt, because of like it. When you ask: why water wave wigs are so popular among consumers? The answer is here. There are many advantages of water wave lace wigs. Let's see it below:
Cause1: It has a natural look
Water wave style is similar to body wave, this is a fashionable hairstyle that has lead the fashion for many years. It's hard to deny that a water wave human hair wig can give us a better feeling than that of synthetic fibers. While synthetic hair is at a lower cost, it can't bring us the appearance we desire. Because human hair is collected from donors, it is the same as our real hair. With human hair extensions, you are confident to shine.
lace wig water wave, for example, a water wave frontal wig is a good choice if you want to leave out some hair for the blending purpose. It can perfectly blend with your hair, meaning hardly can other people realize that you are wearing hair extensions. And, if you want the best lace wig, you can try water wave full lace wigs. But you need to consider the stiff price before you make an order.
Cause2: Natural and nice hair ends
Water wave wig made of Remy hair is extremely thick, soft, and luxurious. It tends to give more fullness in the root and get thinner towards the ends, which certainly brings you a more natural or realistic look.
Cause2: Best longevity
One of the very first reasons women chooses human hair is that it has the best longevity. This texture is known as your tropical getaway in the form of loose, carefree curly bundles. With human hair, the longer I keep the hair installed, the better it looks.
Cause3: Easy to maintain and style
Water wave lace wigs are very easy to maintain and style. The hair to create this hairstyle is very light, silky, and lustrous. This is beneficial for the application process. No tangling, no shedding, a water wave wig is the best-selling product for its beautiful appearance and maintenance.
Yes, we can consider a water wave wig a multipurpose and versatile hair choice that is easy to style and color. This kind of hair takes and holds styles very easily. That's why you will take less time primping and more time enjoying life with your new hairstyle.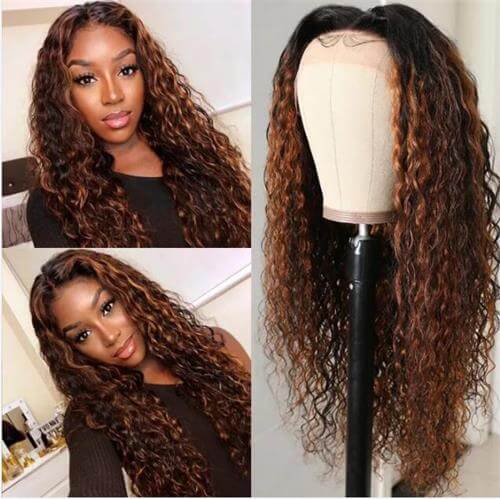 How long is a 14 inch water wave wig?
For some strangers, when they choosing a water wave wig, they are not clear about the length. So, someone has asked how long is a 14 inch water wave wig? Here, we will introduce them. On the wigs market, people always use inches in length. You can find that the shortest wig is about 8 inch, 10 inch, and the longest is about 30inch, 32 inch, and even more. Of course, the length can be customized.
Different sellers have different measuring methods. And the measuring methods for straight and curly wigs are also different. But, for the same textures, the deviation is not very great for different sellers. Here, you can check the standard measuring method by Nadula Mall:
For curly wigs:

For straight wigs:

How to wear a water wave lace wig?
If you have not tried a wig before, this is just the right chance for you. Once you get a water wave lace wig, you must know how to install it correctly to get a perfect look. Follow the steps below:
Step 1: Secure your natural hair at the back of your head and tuck the loose ends under.
Step 2: Protect your natural hair by using a wig cap. Make sure to use a wig cap that is as close to your skin color as possible. Place the wig cap on your head and be sure that the edges of your wig cap align with your hairline. This way will prevent your natural hair from sticking out.
Step 3: Secure the hair away from your face with some clips and trim the extra lace around the hairline. Remember to cut small sections at a time so as not to hurt yourself and overcut or undercut the lace. You must cut the lace-up to the hairline of the wig.
Step 4: Use a makeup sponge to rub alcohol or witch hazel to your scalp hairline to remove oil from your skin. In this way, the wig glue will stick to your skin easier. For sensitive skin, it is recommended to use a scalp protector around the hairline.
Step 5: Put a thin coat of glue on the underside of the hairline of your water wave full lace wig. Then, use a makeup sponge or brush to stretch out a thin layer of glue on your scalp. Wait for the glue to dry before you put your wig on.
Step 6: Place the water wave full lace wig or water wave lace front wig over your head. Make sure you align the front, back, and middle of your wig with that of your head. Then, pull it over your head and press down the edges to secure the adhesive.
Step 7: Take a spray bottle filled with a mixture of water and conditioner and spray it into your wig. Scrunch the hair to activate the curls.
Step 8: Apply a natural oil to add some sheen and moisture to your wig.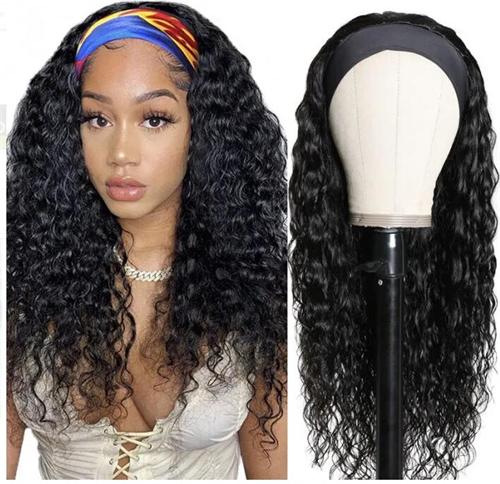 How do I get my water wave wig back to life?
Every product has a service life. For a water wave human hair wig, the span of life is about 6 months to 1 year. But if you take care of it carefully, it may serve you a long time. Here, we advise you to keep reading to help you save more money:
1. Wash your wig after several uses. Don't wash it too often as that only makes the hair strands break. Yet, don't be lazy with the washing. Washing your wig is a way to revive it. You can wash your wig after 8 times of use.
To have a beautiful curly pattern, you should saturate your wig, apply moisturizer and brush each hair section. Remember to let it air dry before wearing it.
2. Always place your wig on a wig stand or a wig mannequin after keeping the style and prevent tangling.
3.Don't try to apply heat on your synthetic wig. For human hair water wave wigs, do apply heat protectant spray before styling. But it's not a wise choice to style with heat frequently.
4. Choose a good quality water wave human hair wig from a prestigious provider to get support for maintenance and other guides of use. At Nadula, you will get perfect pre-sale and after-sale service and timely support. We are here to try to satisfy all of you.
Conclusion
Above all is about the water wave wig. You can try it at any time by placing an order from here. And please feel free to contact us with any questions even you are not our customers.