Most wig users ultimately wonder how to control flyaway wig hair or why their wig has flyaways in the first place. Flyaways on a wig can be caused by the threading procedure and aggravated by static electricity, dryness, or frizz. The methods for dealing with these pesky hairs differ based on the style of wig you wear. Don't worry, this article will guarantee you that our top recommendations below include something for everyone!
What are Flyaways?
If you desire a solution, you must first understand why. This vexing issue has several reasons.
The first is caused by product accumulation on the scalp. Improper washing causes your hair to appear weighed down. It indicates that the flyways are more visible.
The second source of flyaways is heat styling and chemical processing, which can result in breakages such as dry strands or broken ends. Even fresh hair that is thin and short might have flyaways.
More flyaways might be seen during the chilly winter months when static electricity is stronger owing to little or no air humidity.
What are The Major Causes of Flyaways On A Wig?
Although hair breakage and hair growth are the major causes of flyaways, the following factors might enhance susceptibility to flyaways:
Excessive Heat: Styling with blow dryers, curling wands, and flat irons makes the hair brittle and causes random hair breaking. Flyaway hairs are caused by breaking strands.
Chemical Deterioration: The same is valid for chemical styling treatments such as color and highlights, perms, and relaxers.
Split Ends: The split end is a physical problem caused by dryness that can cause your strands to fly away.
New Hair Growth: The appearance of frizzy hair might be caused by the formation of new baby hair strands around your hairline.
Static: Flyaways can occur when negatively charged electrons fly off your hair, leaving your strands loaded with positive charges that resist each other (also known as static hair).
Humidity: Frizz, and flyaways occur when the humidity in the air exceeds the amount of water in your hair. Humidity enters your hair and reorganizes the links inside each hair fiber, converting silky strands into a tangle.
Dryness: Dry hair absorbs any extra moisture from the surroundings, resulting in flyaways.
Product Accumulation: Product buildup coats your hair, preventing it from absorbing moisture. This causes flyaways and dry hair.
Poor Hair Hygiene: Not washing your hair enough can also lead to flyaways. Any kind of buildup on your scalp (product, dirt, cells) will coat your scalp causing surface frizz and flyaways.
How To Fix Flyaways On A Wig?
As previously stated, those bothersome tiny flyaway hairs are caused by a variety of factors, including breakage and split ends. In this situation, getting a trim is your best bet. Don't worry, we're not getting into anything weird! You are not required to cut off all of your lengthy hair. A simple trim every six weeks will be enough to maintain your hair in place!
Consider a Suitable Shampoo and Conditioner
We understand that there are many hair products on the market right now, but it doesn't mean you should buy anything that is offered. Try to get the best shampoo and conditioner to address your flyaway problem. These are typically labeled as anti-frizz, straight and smooth, and so on.
Another tip: Avoid using shampoo every day to avoid drying out your hair. Unless specific conditions necessitate daily shampooing, you should only do it every two to three days. Also, after shampooing, apply conditioner.
Tame Flyaways When Styling
When style, keep flyaways under control. Lock in your still with your favorite hairspray to keep flyaways at bay. However, you must be fast to employ this strategy. After you've finished styling your hair, apply hairspray to fix your style and lock in any flyaways. For this, we prefer to apply a smoothing hairspray.
What's the quickest method to ruin all the hard work your wash and style products just did? Using the incorrect hairbrush. Before you even consider combing a comb through your hair, read our guide on selecting the best tool for your hair type.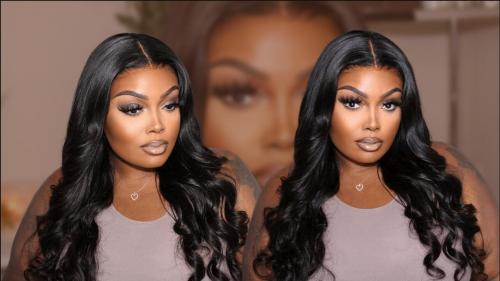 You may conceal the flyaways with a wig. It may be used to smooth out hair that has a lot of flyaways. Nowadays, purchasing a wig is simple. Remember to buy a high-quality one to prevent the adverse effects that low-quality wigs might produce. A synthetic wig is less expensive than a real hair wig, but it cannot be dyed or styled. Furthermore, a real hair wig appears more natural.
Using a small amount of water, moisten your flyways. If you didn't straighten your hair and have naturally curly locks, just moisten your hands and dampen the flyaways. Hopefully, the water will smooth down your hair. Even if your hair is straightened, you may use the water approach if you're in a hurry.
However, simply use a small amount of water to avoid ruining your hairstyle for straight hair.
Using Keratin Infused Product
Humidity can depress you by causing little hairs to coil up and resemble flyaway hair. If you live in a humid climate, you may believe there is nothing you can do about it. Everyone has been there. Fortunately, some serums are good flyaway hair treatments that can come to the rescue. Serums, like split end treatments, coat your hair and lock in the frizz.
One of the preceding treatments should smooth out flyaways in your hair. Feeling secure in your hairstyle is crucial, and getting rid of flyaways is a little part of that. If your hair is naturally tangled, use a detangling comb. Use a boar bristle brush on brittle or fragile strands. Use a paddle brush on long, thick hair.
Choosing a specialized hairbrush for your hair's structure and style demands will assist you to avoid accidentally hurting your tresses. It will also make your styling regimen a lot simpler.
When all else fails, try to embrace those unsightly flyaways in your hair. Top knots, untidy ponytails, and undone waves all look better with a little loose hair around your face, so don't be too concerned about a few flyaway hair strands ruining your 'do.