In recent days, the collaboration between Aurate and Kerry Washington has attracted widespread attention in the fashion industry. This is the third cooperation between them.
With her creations hitting Aurate's e-commerce, she hopes women from all walks of life are inspired to put themselves first. "I believe everyone deserves to have beautiful things at a price that's within reach. " She said, "You have to be willing to become the center of your story. No matter who you are or where you come from, everyone deserves that opportunity, and that's what this collection is about."
As a female actor, she encourages women to be themselves boldly. As a fan of hairstyle fashion, in addition to the jewelry collection, we also noticed her hairstyle fashion. In the post, we will talk about her hairstyles in this collaboration with Aurate jewelry.
Who is Kerry Washington?
Firstly, let us get to know Kerry Washington briefly. Kerry Washington is a famous American actress, producer, and director. She was widely recognized by the public for her role as crisis management expert Olivia Pope in the ABC drama series Scandal (2012–2018). For her role, she was twice nominated for the Primetime Emmy Award for Outstanding Lead Actress in a Drama Series and once for the Golden Globe Award for Best Actress——Television Series Drama.
Time magazine included Washington in its Time 100 list of most influential people in 2014. In 2018, Forbes named her the eighth highest-paid television actress. Washington has won a Primetime Emmy Award and five NAACP Image Awards, including The President's Award.
Kerry Washington's Hair Wigs
In daily life, she maintains her natural hair. Just like most girls with dark skin, Kerry Washington's natural hair is coarse and fluffy. In the pictures of her collaborations with Aurate, we can see that she wears two different wigs. We will introduce the two hairstyles for you in the following part.
1. Short finger wave wig
The first one is a short finger wave wig. The finger wave was popular in the 1920s and early 1930s and again in the late 1990s in North America and Europe, which is made by curling the short hair into curls.
Generally, most of the finger waves we can see are short hair, because long hair is more difficult to curl into a finger wave and difficult to manage. So finger wave hairstyles are more suitable for short hair. The length of Kerry Washington's wig is generally within 2-4 inches. As you see, the short finger wave hair wig looks very close to the scalp, and it is very smooth and shiny.
Black finger wave hair wigs are often more popular with African American women. So we can see finger wave hairstyles for short black hair. From this picture of Kerry Washington, it seems that her skin tone fits with this black finger wave wig perfectly.
The Short hair can wonderfully highlight her exquisite facial features. And this hairstyle is very classic, adding a great deal of very retro fashion sense with the jewelry. I believe this is definitely not the first time you have seen a female celebrity wearing this hair. For example, it is a very popular hairstyle on the red carpet and major fashion weeks.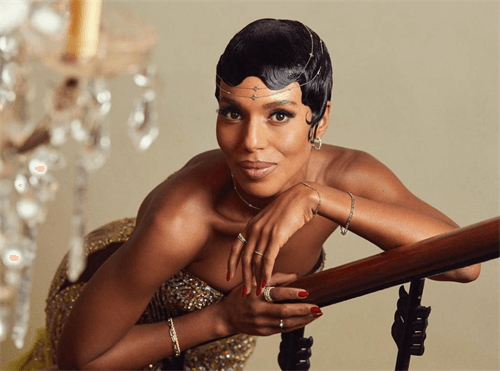 2. Bob short wavy hair wig
The other hairstyle is short bob wavy hair. This wig is longer than the previous one. Since people began to pay attention to hair fashion, wave hair has always been popular and loved by women. Whether in our daily life or at a party, whether ordinary girls or celebrities, it seems that everyone will never refuse a wave hairstyle.
This short bob wig can be used to modify the shape of your face visually, making the contours and lines of your face look softer. It will give people a more gentle feeling, and at the same time, it is very beautiful and elegant.
And short hair will not cover your neck, it can perfectly show your beautiful neck. If you want to go to a party, this wig can go well with your earrings and necklace. And because the length is shorter, it is not only better to take care of than long hair, but the price will also be more affordable.
Just like this short wig of Kerry Washington, a short wave bob wig can also show your elegance and nobility. You will be more attractive.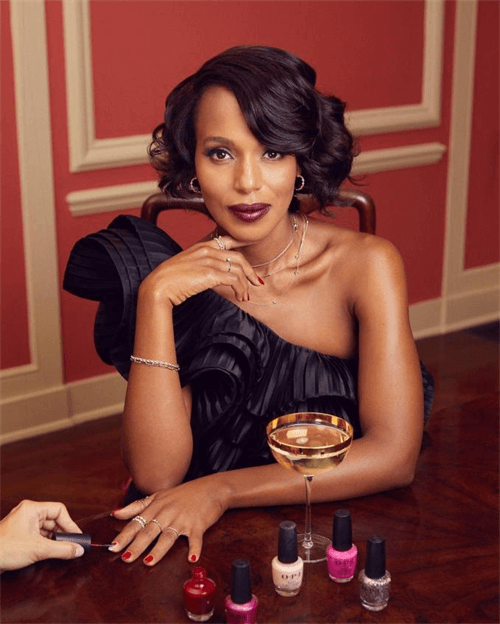 Conclusion
As one of the leaders of women's fashion, Kerry Washington fully demonstrated her beauty and charm in cooperation with jewelry. The two short wigs are in match with her temperament. In fact, the two wigs are also very suitable for us ordinary girls, which can make us more gorgeous and elegant.
You can find that Kerry Washington wears different styles of wigs on different occasions. A good hairstyle can often add more charm to us and also make us more beautiful and confident.
If you like these two hairstyles, Nadula has the hair wigs on sale, and our wigs are all made of 100% human hair, so the quality can be guaranteed. In addition, you can use curling irons to recreate them into your favorite hairstyles. How do you appraise the two hairstyles of Kerry Washington, welcome to leave your ideas in the comment section.