Human Hair wigs adhesives can be a complicated and preferential thing. Some adhesives will respond differently to various people's body chemistry and skin type. You can go out for work, dance, perform, and even swim with your wig if you use the appropriate adhesives.
This article will educate you on the best solutions and how to choose an adhesive that will work best for you.
Type of Wig adhesives: Tape Vs Glue
There are several varieties of wig adhesive on the market, but two stand out: Glue and Tape.
What Is Glue Wig Adhesive?
The installation of lace front wig glue adhesive is always necessary after some prior preparation, such as cosmetics, wearing the costume, and hair depilation. Now, let's look at the advantages and disadvantages of utilizing lace front glue.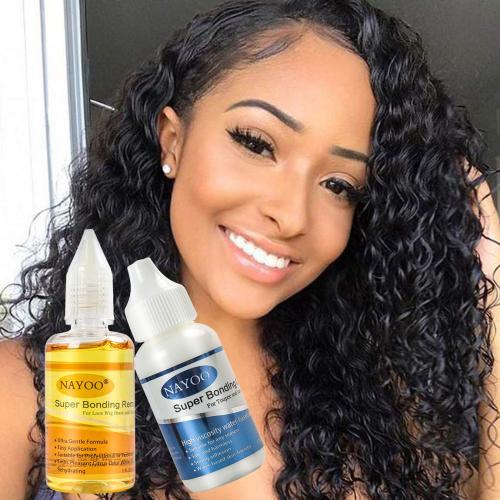 The Advantages of Wig Adhesive Glue
A standard frontal cannot normally rest flat on the surfaces of your sides, and lace front adhesive greatly aids in keeping those laces in place. Once everything is in place, you cannot believe in the realistic edge, although it is generally extremely easy to perceive.
Many people have experienced difficulties in removing their wig without the use of scissors - it is quite painful and can occasionally result in skin issues. Lace wig glue may be removed using a variety of products, including solvents, alcohol, and even water. This is far safer.
The Ease of Keeping the Wig
The second 'ease' that lace front glue provides is upkeep. Hair maintenance is never an easy process. You'll have to spend hours correcting it and updating your look at home.
Using lace front glue does not always require a thick edge, braids, or even hair. Even when used to connect the frontal to anything, the adhesive maintains a genuine appearance. As a result, thick hair is unnecessary.
A thin edge always works effectively since it prevents consumers from being dissatisfied due to limitations in specialized installation methods.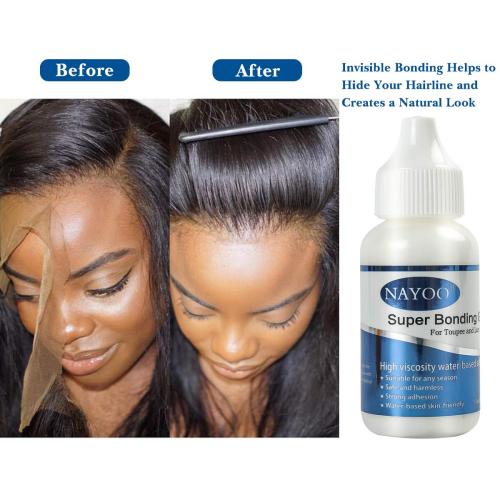 The Disadvantages Of Glue Wig Adhesives
Longevity is an important factor that must be mentioned, and its absence will not allow you to wear a wig for an extended period. As a result, glue is not suggested as the best lace wig adhesive for long-term usage.
Regardless matter how amazing your style is, the wig glue adhesive is not waterproof after three nights.
The moisture displacement of your face will surprise you since one of the key benefits of weaving is the capacity to have flawless hair. When your frontal started to move from the constant sweating and showering due to the adhesive wearing off.
Furthermore, sweating out your hair can cause irritation to some.
What Is Adhesive Tape for Wigs?
The dilemma of whether to use lace wig tape or adhesive is never easy to answer. While glue stands out for its superior quality, tape adhesive is no less efficient.
The tape is easy to use and convenient. It has a simple hookup, cleaning, and extraction method. Find out how to use tape binding from the front.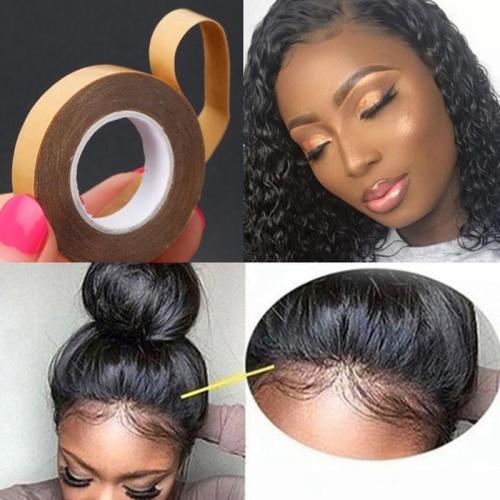 The Advantages of lace wig tape
It takes less time to apply tape than it does to apply glue. It simply takes 30-60 minutes to install, unlike other human hair lace frontal wigs that demand a significant amount of time on the design desk.
If correctly applied, the tape can last 6-12 weeks. In this situation, the tape wins a stage in the "battle" between lace front adhesive and tape.
If youngsters are concerned about hair loss and believe that wearing wigs or extensions may hurt their natural hair, the best option is to use tape. They're light, so they don't affect your hair. They're also simple to install, so there's no stress on your hair or scalp.
It is imperceptible because the basic material used to adhere to the scalp makes it practically unnoticeable to observers.
Hairstyles Come in A Wide Range of Styles
Due to the application of tape lace frontal, you will have a lot of hair styling alternatives while utilizing tape adhesive.
The Disadvantages Of Using Tape For Wigs
Girls must wait 48 hours after applying the tape adhesive before engaging in any physical activity or washing their hair.
Oily makeup and shampoos are not suggested since they might cause the cloth to slip off the body. Remember to keep the tape soft at all times.
Although our financial capacity aids in the purchase of this tape application, you will have to pay a considerable quantity of money to obtain it.
The adhesive tape for lace wigs, on the other hand, may endure for around a year, so it's a smart investment.
Tape Vs Glue: Which one to Choose For Lace Wig Adhesive?
Learning how to arrange your lace front wigs takes experience and the right products for you and your specific situation. There are two types of lace front wig adhesives on the market. Adhesives for tapes and glues.
Tape adhesives use a specific double-sided tape with adhesive on both sides, with one portion attaching to the skin and the other to the lace.
Before the lace wig is glued to the scalp, glue adhesives are placed and left to dry. After that, the lace wig is attached and the adhesive is allowed to cure, binding the wig to the scalp.
Each variety, like any other, has advantages and disadvantages that must be considered.
Most adhesives used with lace front wigs are classified as contact-style adhesives. These contact adhesives differ from traditional adhesives in that their components operate best when in touch with the skin.
This emphasizes the dermatological impact on the skin, as well as the simplicity of application and durability.
Doing a hand or patch test on your inner forearm before applying the adhesive to your scalp is one of the greatest ways to determine the possibility of a negative, allergic response. Apply a little drop of glue to the inside of your forearm and let it dry.
Remove the adhesive after about an hour and monitor reactions over the following 24 hours. If you have a response, it may be a hint that you need to try a different glue, in which case tape adhesives would be a better option.