A beautiful hairstyle is an extension of your unique personality, and we can do countless different hairstyles. Among them, braided hairstyles are a gorgeous way to change up your look. When you're planning your hot girl hairstyles this summer, you can take inspiration from gorgeous braided hairstyles. Not only are braided hairstyles versatile and versatile, but they are protective hairstyles that protect natural hair from sun damage and keep it healthy, which also makes them a go-to style for the beach, vacation, and lounging. If you're looking for a hairstyle that's easy, cute, and perfect for summer, keep reading as we've rounded up 10 braided hairstyles to add inspiration to your look this summer.
1. Classic Box Braids Hairstyles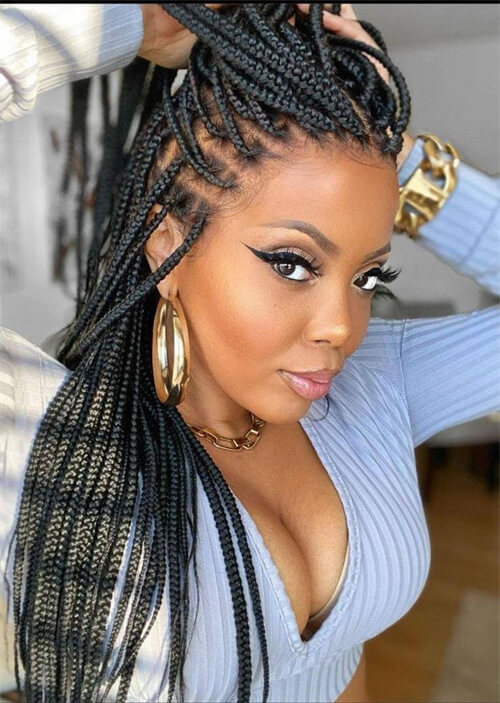 These slender braids are made with a lot of skilled handworks and are considered a true work of art. The look is classic, durable, and easy to care for.
2. Boho Goddess Box Braids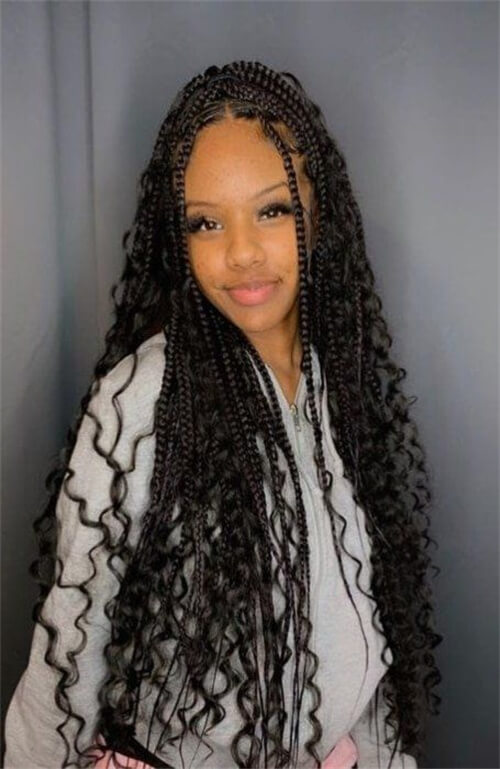 The boho goddess box braids are a natural plait hairstyle with loose ends. You can let it hang loosely around you or tie it up for different hairstyles. Long, thin braids paired with loose curls at the ends look glamorous and bohemian. When you see it, you can naturally think of the sun, sand, and sea. This hairstyle is a perfect partner for summer vacation.
3. Braided Updo Hairstyles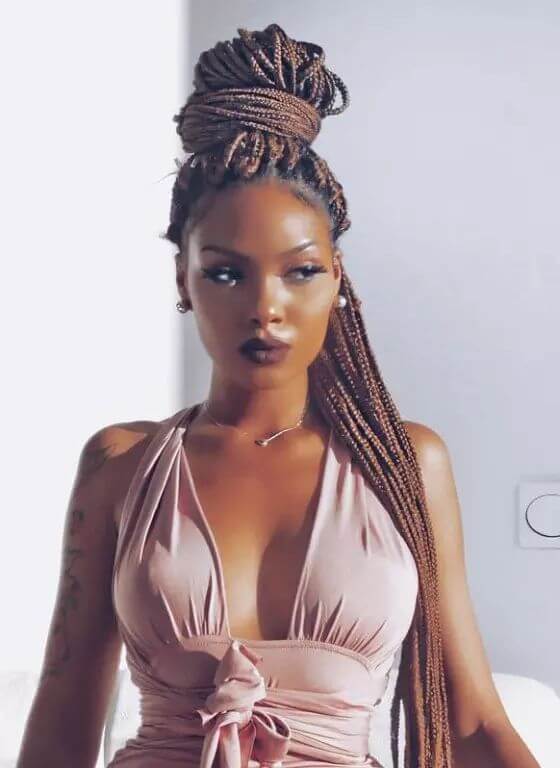 With the hot summer weather, if you don't want your hair to be cut too close to your cheeks or neck, the best thing to do is to wear your hair in a bun. This braided ball hairstyle is very stylish and elegant, and it is easy to maintain.
4. Double Braided Buns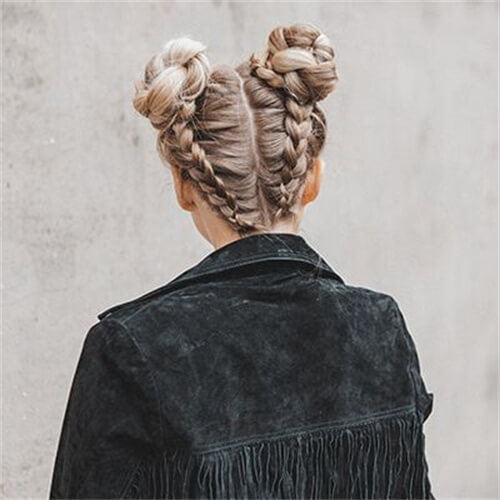 This beautiful double braided buns hairstyle looks very cute, passionate, and energetic, which is perfect for summer. With this look, you are that cool and cute girl, and many people will be attracted to you.
5. Crown Braids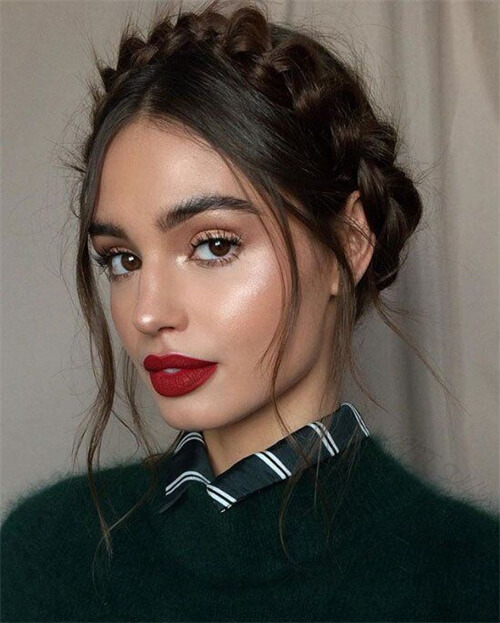 The Crown Braids hairstyle that you must try in summer is so suitable for summer, and it will be fascinating at a glance. Pull two low braids over the top of your head and pin them to complete this crown braids hairstyle. The bangs can be used to shape the face and make the whole look more stunning, like a noble princess.
6. Braided Ponytail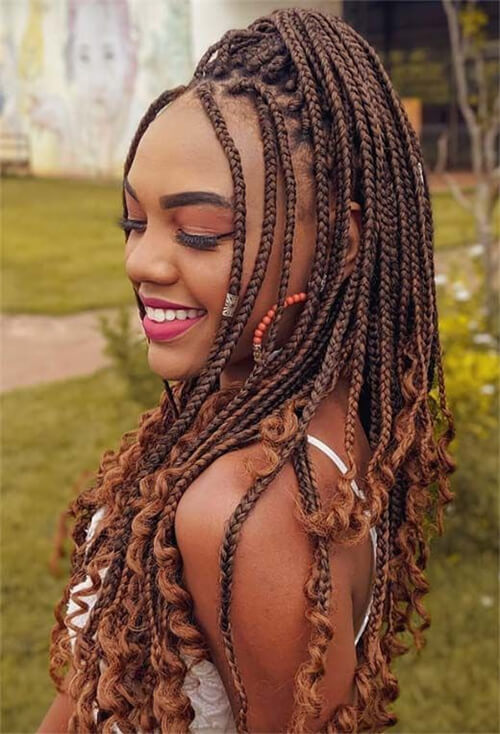 If you prefer braided ponytails, start by braiding your hair from root to tip, then tie your hair back as usual and secure it with a headband. You can add some accessories to the hairstyle according to your hobbies, such as beads and rings, to make the shape more vivid and beautiful.
7. Medium Bob Braids with Side Cornrows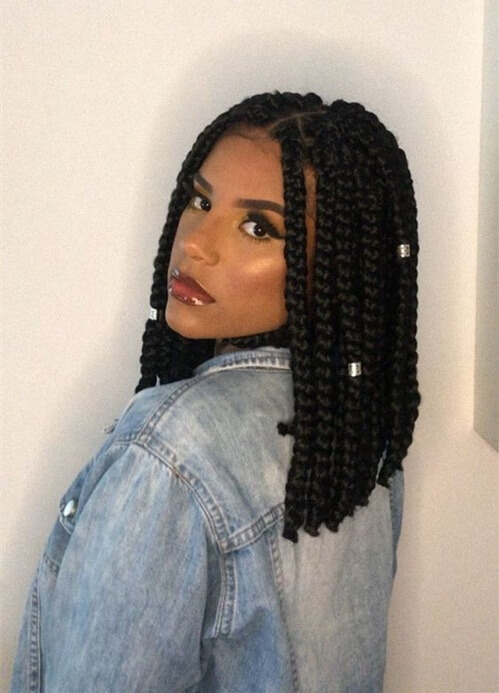 It's a '90s-inspired look that's sexy and sophisticated. You can add a little beading to the hair to add character to the overall look.
8. Feed-in Ponytail Braids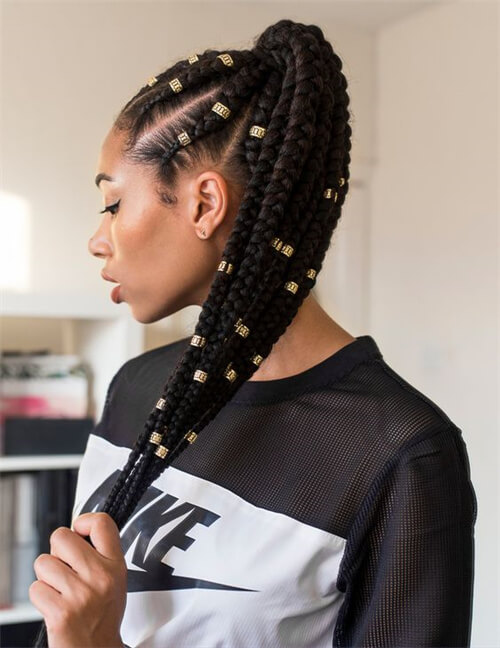 Feed-in braids are a popular braiding trend these days, and adding some gold cuffs can effortlessly spice up your braids and give your braids a chic look too.
9. Messy Ponytail Braid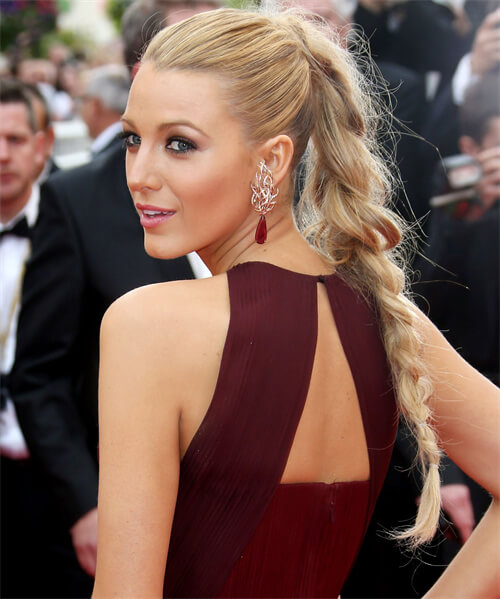 Creating this messy ponytail hairstyle is as simple as pulling your hair into a high ponytail on top of your head, then braiding them together and pulling a section of hair out of the way. Loose and messy braids like this one are a departure from your regular sophisticated updo. This messy braid is visually relaxing.
10. Half-Up Half-Down
Half up half down hairstyle will never go out of style, it is suitable for any season. If you wear square braids, how about parting your hair and focusing on the parts closer to the top of your head? Wrap it into a bun and let the rest of your braid float.