If you adore lace front wigs for their beauty and natural appearance but are looking for a means to install them without adhesive, a glueless lace front wig is an ideal choice. Glueless lace front wigs are quite popular among black women with delicate skin or glue allergies.
And the best part is these kinds of wigs are readily available in the market these days. This means that you can get a glueless wig of your preferred style, length, and color without sweating much.
But what is a glueless lace front wig, why should you get one, and how can you install it like a pro? Continue reading as we answer these questions and much more because they are all addressed in this article. Let's get started.
What is a Glueless Front Lace Wig?
A glueless lace front wig is entirely hand-knotted and does not require glue or adhesive to be installed. There are typically adjustable straps on the back of the wig. In addition, the wig's base is equipped with small combs that allow you to attach it to your own hair.
But should you get a glueless lace wig? Yes! You need to get a glueless lace front wig if you want to enhance your appearance. Let's explore the reasons that justify this.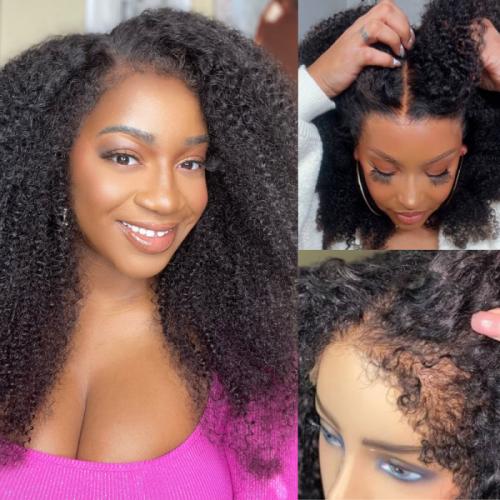 Reasons To Get a Glueless Human Hair Wig
1. It Protects Your Hairline
The hairline is typically protected by glueless wigs, which is one of their greatest benefits. It is known that glue and adhesives can harm the hairline. When you wear a glueless lace front wig, glue is no longer required. So you will not have to worry about the adhesive causing damage to your hairline. In addition, this wig will shield your hair from ultraviolet rays, dirt, as well as dust.
2. Simple Installation and Removal
The installation and removal of glueless lace front wigs are incredibly simple. This is because they need little effort. To install the wig, you just place it on your head and adjust the strap in the back to keep it in place. Moreover, you can use a headband or a wig grip.
In addition, uninstalling glueless human hair wig is rather straightforward. It is unnecessary to use a remover to remove the wig. In addition, there is no need to apply glue, which can be a time-consuming process. These are among the reasons why glueless lace front wigs are so convenient and popular.
3. Ideal For Individuals Allergic to Glue and Adhesives
If you are allergic to the chemicals in glue and adhesives, you should seek out a wig that can be installed without glue or adhesive. A glueless lace front wig is an excellent choice. There is no need for glue when placing the wig.
4. The Wigs Appear More Natural
A glueless lace front wig appears more natural and gives the wearer a more natural appearance. For starters, these wigs are covered in baby hairs. This enhances the wig's practicality by increasing the hairline's density.
5. Encourages Hair Growth
A glueless lace front wig promotes healthy and robust hair growth. Glue can plug pores, inhibiting hair development and leading to hair loss. Hence, a glueless lace front wig is an excellent choice if you are searching for a wig that helps stimulate hair growth.
6. They'll Help You Save Time
Time is money, and it must never be wasted in any way. Consider acquiring a glueless wig if you have a tight schedule and are searching for wigs that can save you time. As previously stated, these wigs are simple to install and remove, saving you considerable time. They are very simple to style, and you can do it in the comfort of your own home without having to drive all the way to the salon.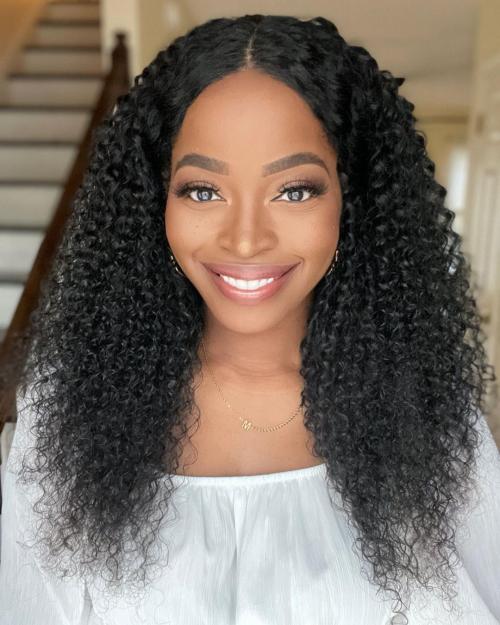 A Step-By-Step Method to Installing a Glueless Lace Front Wig
This step-by-step instruction will assist you in installing your glueless lace front wig.
1. Get Your Hair Ready
First and foremost, you must ensure that your wig has been correctly prepared for installation. For a natural look, you must ensure that it is as flat as possible. It is possible by braiding your hair into cornrows. You may also secure your hair within the wig cap by tying it into a tight ponytail and braiding it at the nape of your neck.
2. Get Your Hairline Ready
Once you have flattened your natural hair, you can now prepare your hairline. You must ensure that it is as thoroughly clean as possible. With a cotton swab coated in alcohol, you can remove dirt and sweat from your hairline and the border of your skull by wiping the hairline.
3. Place the Wig on Your Head
Now is the time to put on the glueless lace front wig. Carefully grasp the wig with your fingers and place it on your head. You can change the cap size if the wig is loose on your head.
4. Cut Excess Lace
Once the glueless lace wig fits precisely as you wish, the excess lace must be trimmed. But, when cutting the lace, you must be careful not to cut your real hair at the hairline of the wig.
5. Style the Wig As Desired
You have successfully installed your glueless wig. It is now time to style your wig according to your preferences and taste. Begin by styling the baby hairs according to your taste and preferences. Some lace front wigs come with the baby hairs removed, while others may require the wearer to remove them. From there, you can now style the wig to your desire.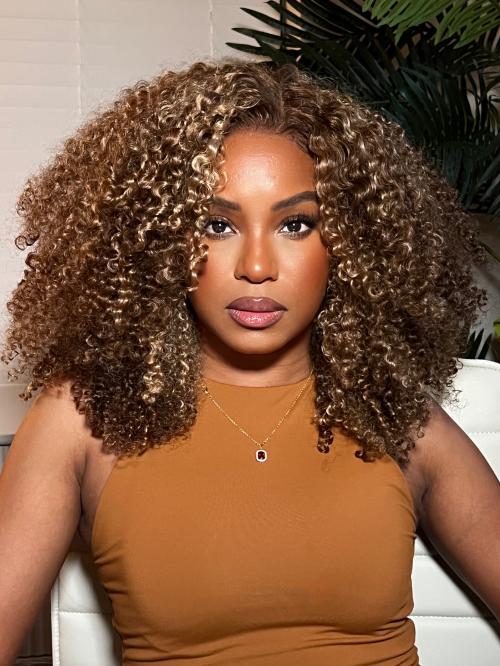 Final Thoughts
Now that you understand everything about glueless lace front wigs, it's time to get yourself one. You'll not regret it because this type of wig is worthwhile. It will give you that natural look you are yearning for. And it's also very affordable.