Everyone wants to have the fullest hairstyles. When you're looking for a wig, you probably want to find the most natural-looking wig that complements your hairline and your face. Getting that look means considering a few key aspects of a wig.
Wig density is one of the most important aspects of any unit, we must choose the 200% high-density wigs which are considered full and voluminous. They lend themselves well to longer styles and looks but can still work for updos and shorter styles. Nadula Hair Mall especially launches some 200% density wigs, such as V part wigs, U part wigs, lace front wigs, HD lace wigs, and so on.
Today, we will share with you the honest customer reviews about the 200% density human hair wigs for you as a reference. According to the real reviews from real customers, you can know how about the 200 density wigs for your full look and if they can meet your needs.
High-Density Wigs Give You Full Look
This density is the 200% density thickness of an average head of hair. This is too much hair for most women to look natural. This density in lace front wigs or full lace wigs is usually worn by performers who desire a heavy style.
Not recommended for someone looking for a natural look in a full lace wig. Because this density is very heavy. It is usually ordered by ladies who want their hair to look extra glamorous more of a celebrity look (recommended for hair lengths over 24").
High-density wigs give you the most fullness for when you're feeling glam and want to impress. Most popular influencers who post hair photos and videos on Instagram and TikTok are wearing high-density wigs. Contrary to what some sources say, high-density wigs can look surprisingly natural.
Why You Should Care About Wig Density
Wig density can be confusing to some and an annoyance to others, but one thing's for sure - it matters. It directly affects how your wig will look with your face, the styles you can create, how the unit will feel on your head, and more. Let's look a little further into the details in the section below:
Density Affects the Look of Your Wig
Lower density wigs will be visibly thinner than higher density wigs. If you want a glamorous look, a high-density wig will give you all the volume you need to achieve it. Also, a higher density wig gives you enhanced styling capabilities, whereas low-density wigs may not be full enough to accomplish some styles.
Density Affects Your Wig Care Routine
The recommended wig care routine will be different for low-density, medium-density, and high-density wigs.
Density Affects Your Wig-Wearing Experiences
When you whip your hair back and forth in a high-density wig, you'll feel like a queen. Lower density wigs may not give you this same luxurious experience.
The Hair Density Affects the Price
High-density wigs cost more than lower-density wigs. This is simply because high-density wigs have more hair on them.
Nadula 200% High-Density Wigs Honest Reviews From Real Customers
1. Body Wave Glueless V Part Wig 200% Density Wear and Go Wig For Beginners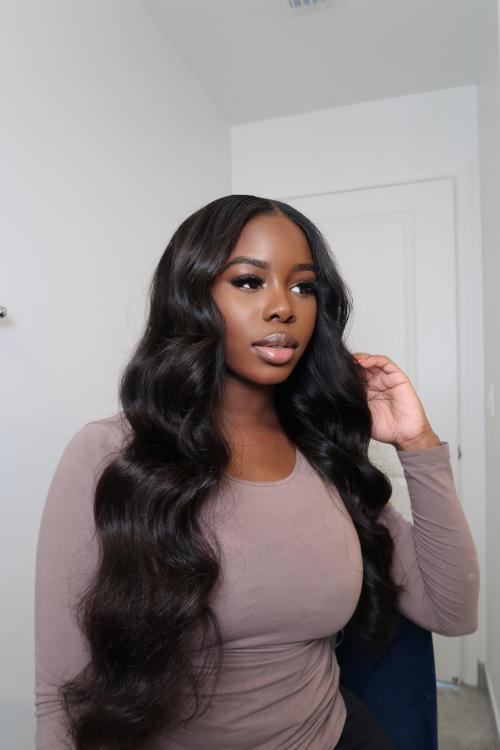 Best Quality And Affordable Wig
I just received this hair and it is some of the best quality for the price. The shipping was faster than expected and so far I haven't experienced any shedding. The communication was outstanding. They contacted me from the time I ordered the hair til the time I received it to make sure everything was ok. I will upload pics once I install it.-@X***e
Good Quality Hair
Good quality hair, true to length and density. It's so soft and pretty! I'm very satisfied with my unit. I got the hair so quick it came within 4 days which is amazing! The seller is the best.-@T***w
Super Soft Smells And Look Nice
The hair is super soft smells and looks really nice I haven't installed it yet but I can't wait the seller has good communication it took about a week to come but it was worth it.-@U***o
2.5x5 HD Lace Closure 200% Density Glueless Body Wave Human Hair Wigs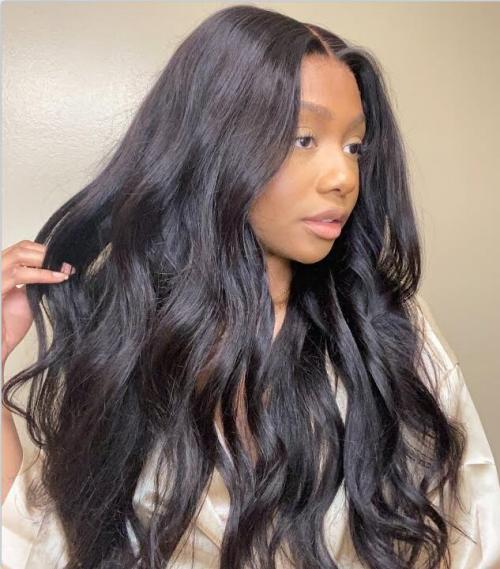 Beautiful Hair
This wig was beautiful. The hair is super soft. This wig is perfect and at a great price. I love this hair it absolutely truly fits the description, true to length and density,no shedding, no tangles, I highly recommend it.-@A****y
This wig is so nice
This wig is so nice, the texture is everything and so bouncy. I was iffy about ordering it but I'm so glad I did, the seller made sure I got it in time, and was sent to me less than a week. This wig is everything I love it! -@N***b
Best Wig I Ordered
This wig was one of the best I have ordered from this website. This store has to be in my top 1 I highly recommend it. I had no problems and the seller communicated very well. I will be recommending it to all my friends. Shipping was on point too, came right in time for my photoshoot. -@F****z
3. Glueless Curly Undetectable 13x4 HD Lace Wig 200% Density With Baby Hair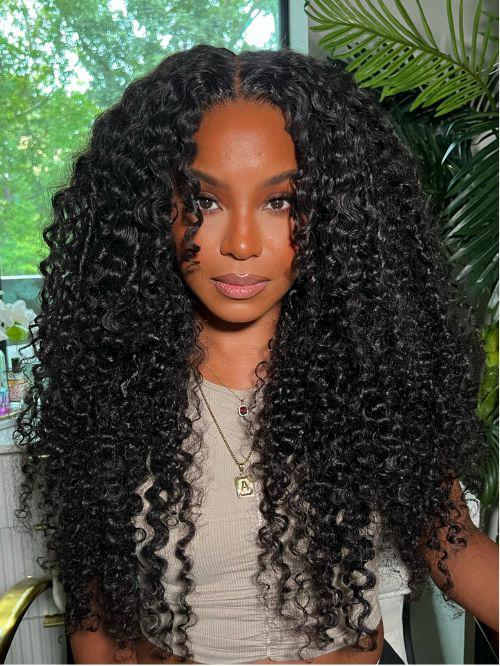 Highly Recommend Wig
I must say…. Ya girl had a lot of compliments from this hair! All I used was some water, a leave-in conditioner, a little natural curl product, & mousse to achieve this actual look of the hair to tame it. Highly recommend. -@N***t
Nice Quality Wig
Exactly what I wanted. It's a very nice quality wig! The communication with the seller was great & Arrived Quickly! The wig is beautiful it literally looks just like the picture. it feels very good no smell and the texture of it is really good and soft for the price. Amazing product. Definitely choose her for your hair needs you will not regret it. -@T***s
Love the Perfect HD Lace
I love this wig so much. It is the perfect amount of density and once you go HD lace, you never go back.. I can't wait to order it again. My head circumference is 21inches so this fits nicely. I highly recommend this wig for your collection. -@J***n
4.200% Density Straight 5*5 HD Lace Closure Wig Glueless Human Hair Wig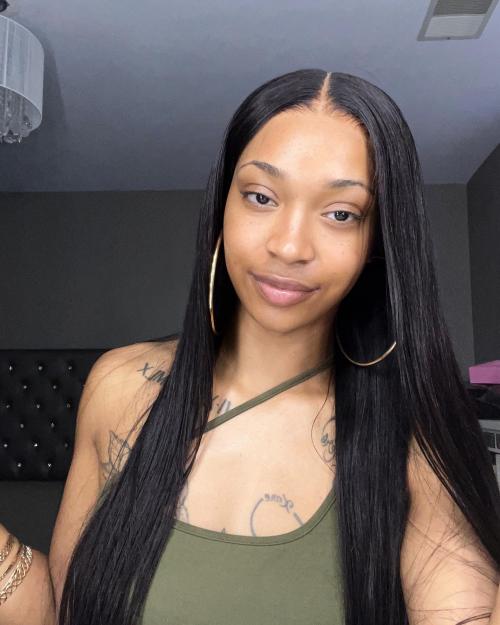 Soft And Beautiful Wig
It's soft, the lace melts beautifully, and I didn't have a problem with bleaching the knots. I do hair so I know good quality when I come across it. Thank you again for your honesty and your business it was a pleasure and I can't wait to shop again very very soon. Wish you guys many blessings and success. -@S****v
Best Quality Wig
It was of an amazing quality I got a shorter wig to see how it would turn out and I'm very pleased so I'll be ordering a longer wig next time. -@A***j
5. Kinky Curly Glueless V Part Human Hair Wig 200% Density Beginner Friendly Wig
Love This Wig
I am in love with this wig, the hair is so soft and very minimal shedding. I would definitely recommend getting this wig and I will be purchasing more.-@K****t
So Amazing Wig
Have no words for this wig.. IT IS AMAZING! It of soo full, with no smell, fast delivery, and really nice hair.excellent description of the item. l love it, it is soft and manageable in terms of maintenance. always 5 start happy with my hair. -@L****t
Best Quality Wig And Worth The Money
Well worth the money I spent on it! It's so soft. The curls are just right and the plucked baby hairs make it look even real so if you style it you can't tell that it's a wig. And the clips are a major plus!!!! I will be ordering a few more. -@P****y
The Best 200% Density Wigs Start With Nadula Hair
Reading this post would have helped you know how about Nadula's 200% density wig. Just like several individuals have different hairstyles and hair densities, wigs are also designed in various styles and densities to replicate that natural feel.
High-density wigs are the best option for people who want a full head of hair with tons of bounce, volume, and personality. We encourage you to try our high-density natural-looking wigs if you want to feel like a beautiful queen every day. You won't be disappointed!