You're about to schedule a highlight appointment when you're met with a difficult question: what is the difference between a partial or complete highlight? You're not alone if you're scratching your brain trying to determine the difference.
With so many innovative techniques and finishes, it might be difficult to tell which highlight shade or technique will complement you best. A skilled hairstylist should be able to explain the distinction, but perhaps you haven't met your go-to stylist yet, you might wonder where to get the answer. Thankfully, we are here to help you.
In this article, we discuss more partial vs. full highlights, their benefits, and their differences. Let's get started.
What Are Highlights?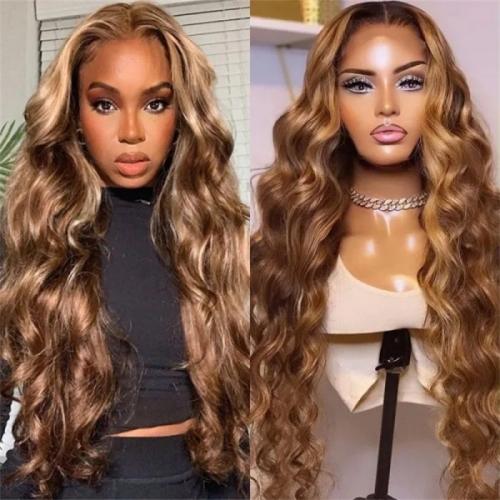 Highlights wigs are a popular method of hair styling. Throughout their existence, hairdressers have developed countless kinds of highlights to accommodate every taste and flatter any face shape and hair type. Highlights are typically lighter strands of hair. Examples include baby lights, balayage, chunky, partial, and full highlights.
Highlighting your hair is an art and a science, just like anything else. Generally, stylists will take the section of hair to be highlighted and separate it from the remainder of your natural hair using foil. Within this foil, your hair is saturated with a bleaching ingredient that aids in removing pigment.
During this process, some stylists either add heat or let the foiled hair air dry, depending on the stylist's application and the client's wishes for a brighter or softer tone. To achieve a more natural look, stylists will often vary colors subtly.
Depending on the client's preferences, stylists can bring out a natural hue or a more pronounced color change. As for highlighting, many approaches may be taken, with partial and full highlighting being among the most common.
What Are Partial Highlights?
Partial highlights, such as balayage, are a freehand method of highlighting that can be softer because it involves "open-air" coloring. It is typically recommended for individuals who desire warmer highlights, but not exclusively.
Balayage may now be as bright as foils, thanks to the new anti-breakage and ashy toners. It can be more delicate due to the varying saturation levels and types of heat conductors that can be matched with balayage techniques for increased lift- instead of using a foil as a source of heat.
Partial highlights are typically put around the face to create a brighter, face-framing appearance. Some stylists define a partial highlight as the head's top half or the top and side regions. You can also request that your colorist incorporate the hair underneath so that it seems fuller when you wear your hair up.
Partial highlights are perfect for those who like a more natural appearance, as they are designed to lighten the hair, similarly to how the sun would. Separating your hair the same way daily is ideal for a quick root touch-up or brightening. It is also an excellent alternative for those new to coloring their hair.
Benefits Of Partial Highlights
Less expensive
Looks more natural
Less damage
Low maintenance
What Are Full Highlights?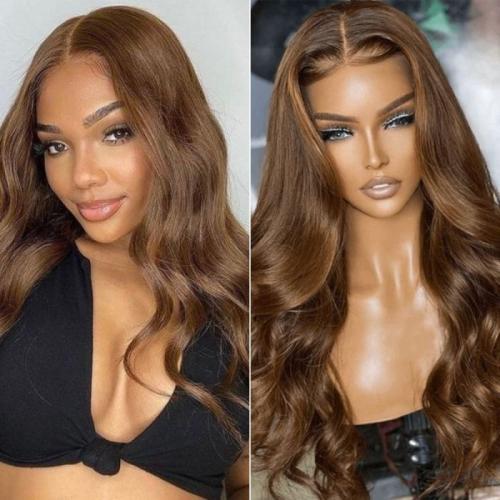 A full highlight involves coloring each section of hair on the head. This may involve slightly lightening all of your hair or, for a more drastic change, going from brown to blonde. They create a more dramatic appearance since they completely envelop the head.
The primary benefit is getting everything done and knowing that the color will look wonderful regardless of how you wear your hair.
Full highlights are distinguishable from others by their coverage area, as they cover the whole head. Again, the quantity of highlighting is determined by the client's color preferences, as highlights and lowlights can be combined for color diversity and a dynamic appearance.
Full highlights are typically used to create depth and definition but can also lighten hair color. Again, in conjunction with their stylists, clients may select from various alternatives.
The primary benefit of full highlights is that they are frequently present in a uniform and consistent manner, which many people value and which is comparable to having a natural appearance.
Benefits Of Full Highlights
Color consistency
A wide variety of options to choose from
No need to bleach the whole hair
Versatile
Differences Between Partial And Full Highlights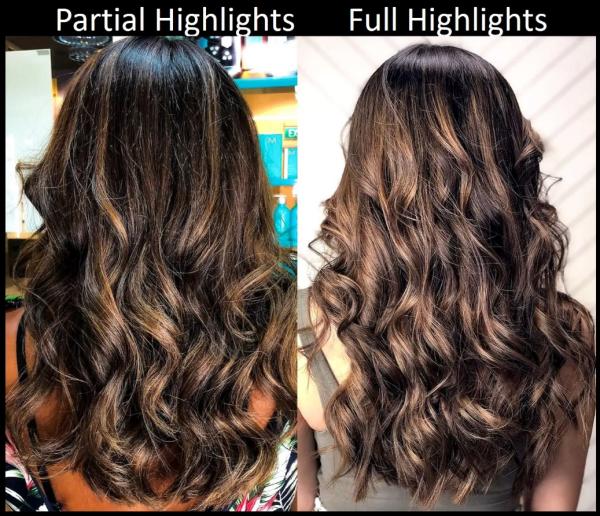 Here are the major differences between these two types of highlights.
The primary distinction between the partial and full highlights is rather simple. While full highlights cover the entire head of hair, partial highlights are limited to the outer layers, leaving natural-colored strands underneath or framing the face in the front. Full highlights are placed at the nape of the neck to make a statement about whether the hair is up, down, or half up.
Partial highlights are a cheaper and time-saving option that may be combined with full highlights to simplify upkeep and reduce damage.
Full highlights add so much drama and are essential for those seeking a drastic change.
Partial highlights seem to appear more natural-looking.
How To Select Between Partial And Full Highlights?
Partial highlights are ideal for those who don't want to see much regrowth, don't have much time, and want to maintain healthy hair. This is ideal for those with low-maintenance highlights, such as warmer tones, who do not mind the occasional appearance of roots.
When the back of the head appears excessively dark when wearing a ponytail, you can go for a full highlight. While full highlights are more of a high-maintenance hue, it is acceptable to stick to full highlights to maintain your hair color looking fresh at all times.
Spacing out your highlights and switching them up will help maintain the integrity of your hair by allowing various regions time to breathe and heal in between applications, particularly for those with long hair.
If the gap of the root look is not too great and/or the top still covers the dark from the rear of your head, a partial may be an ideal choice. keep in mind that a complete highlight may be necessary after a few partial highlights.