Are you looking for a full head of bouncy, Nadula hair wigs or hair topper? As we all know, a woman's hair is called her crowning glory and it plays an important role in her beauty. But with so many options of hair products on the market, it can be tough to make a perfect choice.
We all know that human hair wigs are very popular in the hair market among black women. Do you know the hair topper? Hair toppers are not a new name in the fashion industry. Hair toppers have been popular for years, and they help to provide hair volume to women all around the world. Hair toppers are also commonly known as wiglets, hair enhancers, or hairpieces.
However, wigs and hair toppers all add volume to your own hair and enhance your beauty. But they have some different effects on your hair. Do you know the difference between wigs and hair toppers, how do you choose the best one for yourself? Today, We would like to share with you something you need to know about wigs vs hair toppers and help you to know which is better for you.
First, What is a Hair Topper?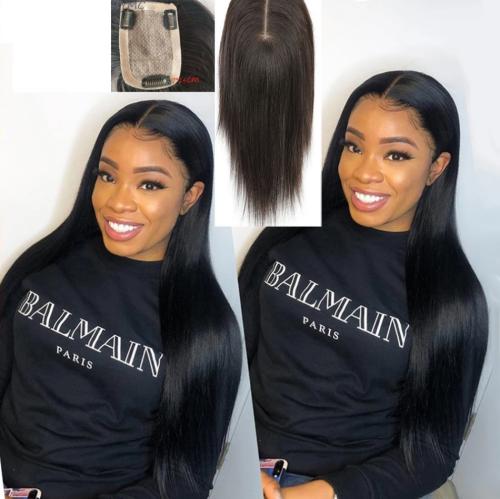 Hair toppers are a very popular subject lately, there's a good reason for that. They are lightweight and easy to use and they are excellent for adding volume to the top of your head by simply clipping into your hair. Hair toppers come in different styles and sizes, lengths, and thicknesses. They can be made from synthetic heat-defiant fiber or real human hair.
Hair toppers are designed to conceal hair loss at various stages and in different areas of the scalp. Some offer more coverage on the top, while others aim to cover the sides or back of the head. Some are even specifically designed for the sole purpose of adding volume to thin or fine hair.
What Is Human Hair Wig?
Human hair wigs are made of real, natural, harvested human hair. This means that they look, move, and act just like your own hair. So, they look and feel very natural. The wigs provide a full head of hair across all sections of the head. This is the biggest difference compared to hair toppers.
The Advantages And Disadvantages Of Wigs
The Advantages:
Wigs are the only option to achieve complete coverage of hair loss or balding associated with alopecia, chemo, or other causes.
Allows you to wear a hair piece that is drastically different from your natural hair color.
Wigs make the morning routine easier and after an initial investment, will save you a lot of money on hairstyling, cuts, and coloring.
Provides full coverage for women; this is ideal for those with advanced stages of hair loss and/or are bald.
Can be worn without any hair clips.
The Disadvantages:
Wigs are generally more expensive, require some care, and take a little longer to get accustomed to wearing.
Some women don't like to exercise when wearing a wig because it adds weight and warmth.
They aren't as practical as scarves at beaches, pools, or any outdoor venue on hot summer days.
If you wear a wig and still have a full head of hair underneath, keep in mind it will be messy and sweaty after wearing a wig and will require some attention!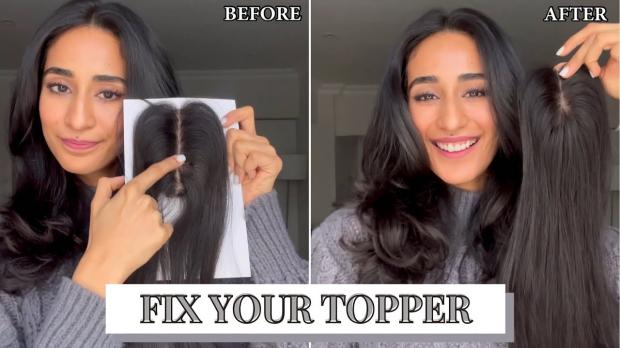 The Advantages And Disadvantages Of Hair Toppers
The Advantages:
A"push-up bra" for your hair.
Provides partial coverage, so they are a perfect solution for people with gradual hair loss, thinning hair, or problem spots.
Similar to clip-on extensions, but additionally covers the top of the head.
Tend to look quite natural, so most people will not guess you're wearing one.
Be worn with natural hair tied in a ponytail.
Typically lightweight, so you don't have to worry about your scalp getting too warm.
Made of less hair and dense, so in most cases, they are more economical than full head wigs and the hair topper is ideal for the hotter weather.
The Disadvantages:
Hair toppers are not an option for complete hair loss associated with alopecia, chemo, or other medical conditions.
For a topper to look natural, it needs to exactly match the color and texture of your own hair.
Many women with thinning spots or sensitive scalps cannot wear clips because they are too uncomfortable.
Moreover, using less expensive clips can damage the remaining hair.
Bonding with glue or tape is a possibility, however, this requires more work.
When you wear a hair topper, you still have to style your own hair, which can take time.
Wigs VS Hair toppers: What is The Difference?
1. Length And Coverage
The obvious main difference lies in length and coverage. A wig provides total head coverage, protecting all your hair underneath. It is also usually sold in a pre-determined cut and style that easily fits on your head.
On the other hand, a hair topper provides coverage and adds volume for thinning spots. You can, of course, choose how long or short you would like the hairpiece to be. Short and sassy or long and luxurious? It's all up to you!
2. Volume And Weight
Then there is the density. As the hair toppers are made of less hair than wigs, they are more lightweight, and as a result, they offer more breathability for the scalp.
Then, the lace wigs for women are understandably a bit heavier to wear due to the fuller mass of hair all over the head.
3. Color And Style
Next comes the fun part – color and style. Real hair wigs are available in a variety of styles and colors to match your preferences. Many types of wigs can be versatile to achieve multiple looks in a single wig. If you have always wanted to be an attractive colored head, why not try a ginger wig, red wig, or blonde wig? Your options are endless as your hair is completely hidden underneath.
A hair topper is available in a variety of styles and colors to integrate with your own hair. It requires a bit more forethought as it needs to blend into your hair color to achieve a natural, seamless finish.
4. Attaching Methods
And finally, we have the means of attachment. A human hair wig can mostly be worn without any clips or fasteners – ideal for those with a sensitive scalp.
Due to its nature, a natural hair topper needs more precise placement by means of light clips to keep it in position.
Wigs VS Hair Toppers, Which One is Right For You?
Honestly, and this question isn't a cop-out answer, there isn't a "right" answer—many people can wear and look great in both wigs and hair toppers! It all depends on you.
In many instances, it comes down to personal preference and it may even be dependent on the occasion or weather as well. There are a few factors that may help lead you to the best choice.
In conclusion, a wig is a great choice if:
You are in the advanced stages of hair loss or balding.
You want to try a style or color drastically different from your natural hair.
You live in a cool climate.
On the opposite, consider a natural hair topper if:
You are in the early stages of hair loss.
You only want to gain a natural hairline.
You live in a hot or humid area.
Conclusions
I hope this article will help you to know more about real hair wigs and hair toppers, and help you make the right choice for you. Whether it is a wig or a hair topper, they all help you achieve your beauty, you only choose the best suitable for you. If you have other points of view, please contact me, welcome, everyone!