Have you found your favorable hair wigs? Are you searching for "human hair wigs for black women-catalog"? Have you found a reliable human hair wig supplier? Today we will show you the detailed human hair wigs catalog, you will get the information about what constructions, colors, and textures of human hair wigs Nadula provides for women of color so that you can know more about the wigs you can see in current hair wigs market.
Wig Constructions
In the first section, we will introduce the common hair wig constructions, from which you can know the basic wig construction and choose the construction most suitable for you.
1. HD Lace Wigs
HD lace wigs can be divided into 4x4 lace closure wigs and 5x5 lace closure wigs, covering the top of your head. HD lace is the most transparent and invisible lace now. Besides, HD lace is the softest, with which your scalp will never feel uncomfortable. But at the same time, all the advantages mean a higher price and more delicate.
2. Lace Front Wigs
Lace front wigs have four different kinds: 13x4 lace wigs, 13x5 lace wigs, 13x6 lace wigs, and 360 lace wigs. The wigs with more lace will be softer, more versatile, and more comfortable. Generally speaking, all the lace front wigs can meet your requirements for versatility. You can do a free part with all the lace front wigs. 360 lace wigs can give you the most natural look, the covering lace look like your own scalp so you can make a high ponytail with them.
3. Lace Part Wigs
Lace part wigs are also called T part wigs, including 13x5x0.75 and 4x0.75 wigs.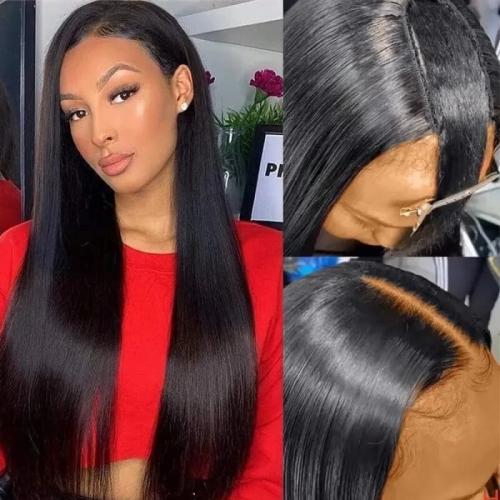 The lace of 13x5x0.75 T part wigs can cover the hairline from ear to ear and middle part line to create a natural middle part style. 4x0.75 wig's lace can cover your forehead and the middle part line. Lace part wigs are more affordable than other lace wigs.
4. Glueless Human Hair Wigs
Generally, the glueless wigs you can find in the hair products market include U part wigs, V part wigs, and headband wigs. They all don't need any glue and are easy to install and take off. Besides, they are the most affordable among all the human hair wigs.
U part wigs are similar to V part wigs. You can understand V part wigs as the upgraded version of U part wigs. There is an opening for the leave-out hair at the top of your head to make the wigs blend seamlessly with your natural hair. The U part opening needs more leave-out hair than V part wigs. With V part wigs, you just need to leave little hair or don't make any leave-out hair.
A headband wig is one of the most popular hair wigs. They have unique look with a headband. There are many ways to hide the headband. Therefore, you don't need to worry they cannot create a natural look. On the contrary, they can not only give you a natural and gorgeous look but also save a lot of money for you.
Hair Wig Texture
Individuals have their own preferences about hairstyle. Therefore, Nadula designed different hairstyles to meet your needs.
1. Bob Wigs
Cute bob wigs are short hair wigs, and with which, girls will look energetic and lovely. They are easier to condition and style. Compared with long hair, bob wigs emphasize your facial features making others focus on your face.
2. Curly Wigs
Dense and small curls add volume to your hair and create a fluffy hair look. They are also one of the most popular wigs among women of color.
3. Straight Wigs
Straight hair tends to present a smooth and shiny hair look. Besides, straight hair can be restyled with a straightener and curling iron into any other curly or wave hairstyle. In other words, straight hair wigs are the most versatile wig style.
4. Body Wave Wigs
Body wave wigs have been popular for a long time. You can see classic body wave wigs showing up on any occasion. This is a wig that will never be out of fashion.
5. Water Wave Wigs
The trendy style mimics the ripples on the lake surface. The regular water wave hair looks neat and charming.
6. Deep Wave Wigs
Deep wave wigs are divided into the loose deep wave and deep wave wigs. Loose deep wave hair looks wavier than deep wave wigs. You can choose according to your preferences.
7. Kinky Straight Wigs And Kinky Curly Wigs
Kinky hair wigs mimic the relaxed or straightened natural hair of African American hair. They have the most fluffy and natural hair look.
Conclusion
Today we introduced different constructions and hairstyles of wigs. These are also two aspects that most girls are more concerned about. In addition, the human hair wigs for black women-catalog can also be summarized by color, length, density, and so on. Basically, Nadula covers almost all types of wigs on the market. We hope Nadual's products catalog can give you a reference. If you want to know more comprehensively and detailed, you can click to enter Nadula homepage to browse and choose.