Human hair bob wigs are the fashionable hairstyles in recent years. No matter what styles, short bob wigs, long bob wig, curly bob wigs, wavy bob wigs, or straight bob wig, they are all suit for the women. Especially for the wigs with bangs, it will make ladies look younger and lovely. The bob wigs for black women are the leading products in the market. Because black girls are the largest consumer group of wigs in the world.
In this post, you will learn what you need to know before you buy a bob wig and how to take care of it. The items are below:
1. Why We Choose Bob Human Hair Wigs?
2. Different Types Of Human Bob Wigs For Sale
3.Different Length Of Bob Wigs
4.How To Style Bob Style Wigs?
>Why We Choose Bob Human Hair Wigs?
Bob style wigs have many advantages if you want to try a wig:
1, Changing hairstyle is easier. There is no need for you to have your long hair cut to meet one situation if you want to gain the bob hairstyle and just pick up a long or short bob wig you can easily achieve your goal and have a new hairstyle soon.
2. Bob hair wigs are classic. They are proper for people from all age groups, young and old ladies.
3. Human Bob wigs are easy to install and uninstall. Besides, they are easy to take care of.
4. Diversified styles of human hair bob wigs can meet different demands. There are braided bob wigs, u part bob wigs, middle part bob wigs, lace front bob wigs, lace front bob wigs, bob cut wigs, short bob wigs with bangs and other styles in the bob market.
5. So many colors to choose from. Blonde bob wig, red bob wig, pink bob wig, white bob wig, purple bob wig and even blue bob wigs.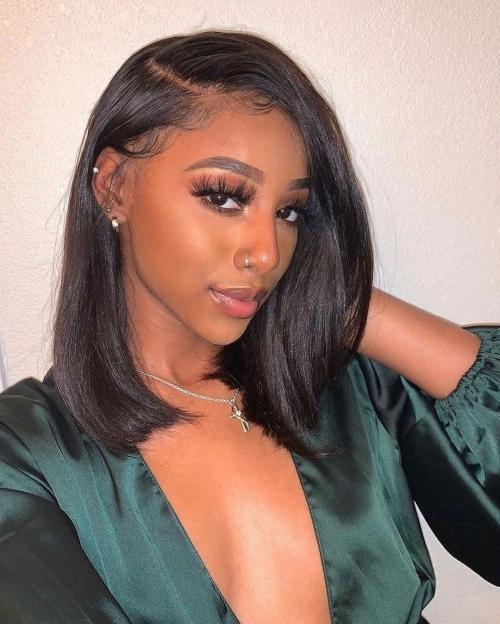 >Different Types Of Human Bob Wigs For Sale
1. Bob Lace Wig
Lace bob wig means the wig cap is lace cap, and the human hair is hand-tied to it. Compare to the machine-made wig, lace wig bob human hair is lighter, and breathable. And this kind of wig is also the leading type in the wigs market. But because it is hand-made construction, so it will cost more money comparing with machine-made wigs. However, for the wigs wearers, especially for the African American ladies, this is not a problem. Bob lace wig includes lace front bob wigs and bob full lace wigs.
2. Bob Style Lace Front Wigs
The lace front bob wigs that have a small sheer lace panel along the front hairline attached to the front of the wig. The hair strands are hand-sewn into the holes of the lace, each strand of the hair is knotted by hand.
The ear-to-ear bob lace front wig coverage perfectly aligns the hairline, making it super natural like your hair. Also, bob-style lace front wigs are safe after you wear them. At the front, side and back, there is a clip, so you can fix the wig on your head stable and safe. It is convenient to take off when you sleep during nighttime, easy to lay it down, can be put on rapidly. And It is comfortable. Ultra-thin, soft, breathable feel so much cleaner. Antibacterial, breathable, UV protection.
3. Full Lace Bob Wig
Full lace bob wig with light or medium brown lace constructed in the whole wig cap and there is extra lace around its perimeter. Lace is used as a wig cap base, it makes the wig more versatile as it provides a natural-looking hairline and scalp, which allows the wig wearer to part the hair anywhere they like. It also enables the wearers to style the hair freely or wear ponytails. Real bob full lace wigs have been the choice of many women because of its natural appearance that people find more appealing than synthetic wigs.
>Different Length Of Bob Wigs
1. Short Bob Wigs
A short bob wig is a great choice for women with thin and weak hair because it looks voluminous even with straight hair. A short bob with natural waves will soften strict facial features, and when combined with bangs, it looks especially youthful and playful. If you want to accomplish the effect of fuller hair, you can add superficial highlights several shades lighter than your base color.
2. Long Bob Wigs
A long bob wig is an excellent compromise if you feel uncomfortable with cutting your hair into a short bob. You will achieve the change of haircut you desired without too much risk, and you will still be able to wear your hair in a ponytail or make a half bun tutorial.
>How To Style Bob Style Wigs?
As wigs bob style now is well welcome by people and as it is suitable and can match with different clothes in different situations and then help you to reflect your best aspects to people. And also you can choose the shape and the styles of the bob wig human hair as well, as in some conditions it is better to use the traditional bob wigs, and if suitable for you then you will look more young and cute.
Besides if you own a square face or a round face, you can also choose the Bob wigs that have side bangs so that your face will have a thin face and you will change a lot. Also, you can choose the bob hairstyles according to the color and so on and there must be Remy bob wigs that can meet your requirements and help to make your looks better.