There are many advantages of wearing a hair wig, one of the best is its versatility.A long blonde wig will make you shinning like sunshine and different from the rest. You can be subtle and reserved one day, then bold and vixen-like the next. The human hair blonde wigs will blend your natural hair very well. That is why so many people are chooing human hair wigs. They can be dyed just like your natural hair. That means not only can your fashion change to suit your mood, but your hair color can, too.
Many people ask how to color a human hair wig­–and it's a great question. When you invest in a high-quality human hair wig, you want to prolong the hair by using proper dyeing techniques.Here it a guide to help you get beautiful blonde human hair wigs at home.So you can craft your hairstyle just the way you like it.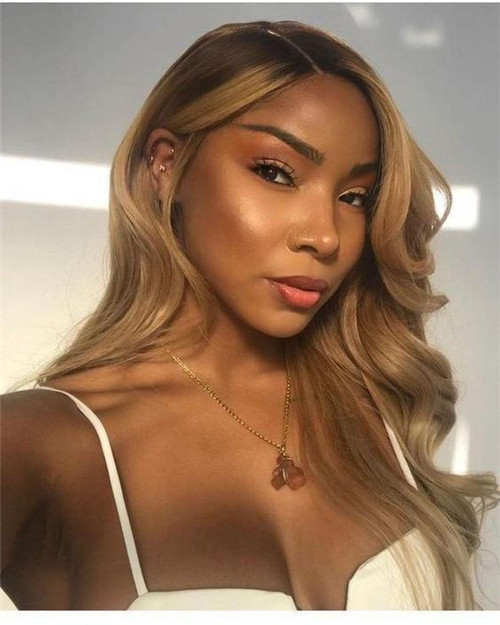 Contents you will read:
Tools used on dyeing human hair wig

Prepare the real hair wig

How to dye a human hair wig blonde?
Follow with how to dye a human hair wig blonde step by step.
Tools used on dyeing human hair wig
• Dye brush
• Wide-tooth comb
• Blonde Dye (amount will depend on thickness, length of wig)
• Bleach (only if you're dyeing dark hair a light or bold color)
• Glass bowl or ceramic bowl for mixing, or large plastic tub for water coloring
• Whisk
• Long, plastic spoon to mix dye in water for water coloring
• Spatula
• Gloves
• Wig head
• Towel that can get stained
• Wig/unit to be dyed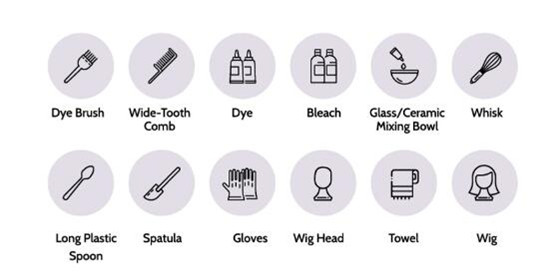 When you preparing all the things to dye the wig, there is one thing you need to consider, that is density of your wig. Density can range from 130 percent (light) to 200 percent (heavy). The denser the wig, the more product you'll need. You'll also need more time to prepare and dye the hair.
Prepare the real hair wig
One important thing before you begin dyeing is wig preparation.You will get the best result if you do these steps.
Step 1: Wash your natural hair wig
This is especially important if the hair is not virgin, or if you've processed your wig with chemicals or styling products. Only shampoo before dyeing–no conditioner.
Step 2: Dry the wig completely
We suggest washing a couple of days before you dye to allow plenty of drying time. Alternatively, you can blow-dry your wig using proper techniques.
Step 3: Comb the wig hair
Place the unit on a wig head using T-pins to secure and gently comb through the hair to remove all tangles. Brush hair from the ends moving upward to avoid tangling. For best results, the hair needs to be flat and free of knots.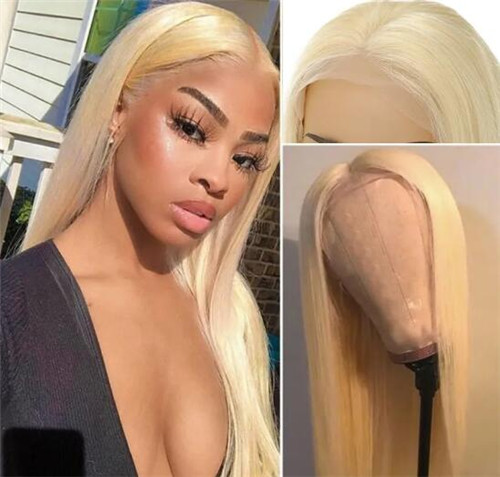 Ok girls, now, it's time to get into the topic, dye your real hair wig blonde :
How To Dye A Human Hair Wig Blonde?
Step 1.Take clean, dry wig and lay onto a protected, flat surface.
Step 2. To protect the lace from the dye, spread styling gel on the lace until completely covered. Use cool setting to blow-dry the gel, or let it sit overnight. Seal the dry gel with a freeze spray and dry.
Step 3. For watercolor: fill a plastic tub with very hot water (almost boiling), just enough to submerge the wig or bundles. Add dye to the water and use a long spoon or whisk to completely mix the water and dye.
a) Wearing gloves, submerge the entire unit in the water and use your hands to move the hair around, making sure all hair gets covered.
b) Timing depends on hair density and desired color saturation. Read instructions for your dye for best results. Typically, leaving the wig submerged anywhere from 2 – 5 minutes will produce results.
c) If the color comes out patchy or not the desired tone, you can repeat the process until satisfaction.
Step 4. For applying dye with brush: Mix the hair dye in a glass bowl with hair developer according to package instructions. Wear gloves!
a) With hair laying on a flat surface, brush the dye into the hair, being sure to coat all strands, avoiding the lace and hair knots near scalp. You can also apply dye while the unit is on a wig head, but this is better for highlighting specific parts of hair.
b) Leave dye on hair according to box instructions.
c) Rinse with warm water until it runs clear.
d) Apply conditioner as instructed on box.
Step 5. Towel dry hair so that it's not dripping, place on a mannequin head, and allow it to thoroughly dry or blow-dry to your liking.
These are all steps for dyeing 100 percent human hair wig. You will get a realistic blonde wig after you follow the guide. I hope that this article helps you better if you want to dye your natural human hair wig to blonde color. If you have any other questions, please leave your question below or contact us, and we will happy to help you. And you can also share this post with your friends who need it.