Are you a black woman looking for a stylish and trendy haircut? Look no further! In this article, we will explore the top 8 layered bob haircuts that are perfect short wigs for black women.
From chic and edgy styles to sophisticated and elegant looks, these hairstyles will enhance your natural beauty and make a statement. So, let's dive in and discover the best-layered bob haircuts for black women.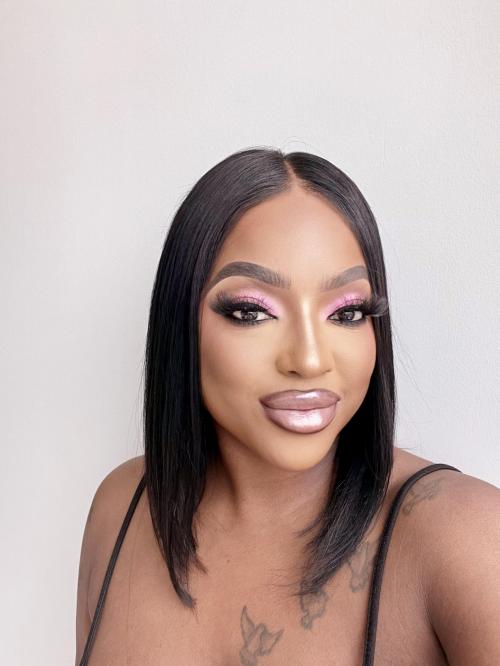 Why Layered Bob Haircuts?
Your hairstyle speaks volumes about your personality and can boost your confidence. Layered bob haircuts are versatile and can be tailored to suit various face shapes and hair textures.
They offer a fresh and youthful look while maintaining a sense of sophistication. Let's explore why layered bob haircuts are a popular choice among black women.
Layered bob haircuts are a perfect combination of style and functionality. They provide volume, texture, and movement to your hair, making it appear thicker and fuller.
Layering also adds dimension and depth to your hairstyle, enhancing your natural features. With the right cut, layered bobs can complement any face shape and accentuate your best features.
The 8 Best Bob Haircuts for Black Women
The Classic Layered Bob
The classic layered bob is a timeless hairstyle that suits women of all ages. It features uniform layers that create a sleek and polished look. This hairstyle works well for both formal and casual occasions and can be easily styled with a flat iron or a curling wand. The classic layered bob is a go-to choice for black women who prefer a versatile and low-maintenance haircut.
The Textured Layered Bob
If you want to add some edge and personality to your look, the textured layered bob is the way to go. This haircut involves creating choppy and uneven layers that add texture and movement to your hair. The textured layered bob exudes a carefree and effortless vibe, making it a great choice for women who want to make a statement.
The Angled Layered Bob
For a bold and dramatic look, consider the angled layered bob. This haircut features longer layers in the front that gradually become shorter at the back. The angled layers create a striking shape that frames your face and draws attention to your best features. The angled layered bob is perfect for black women who want to make a strong fashion statement.
The Asymmetrical Layered Bob
If you're a fan of asymmetry and uniqueness, the asymmetrical layered bob is the perfect choice for you. This haircut involves creating uneven layers and lengths on each side of the head, resulting in an edgy and avant-garde look. The asymmetrical layered bob allows you to express your individuality and stand out from the crowd.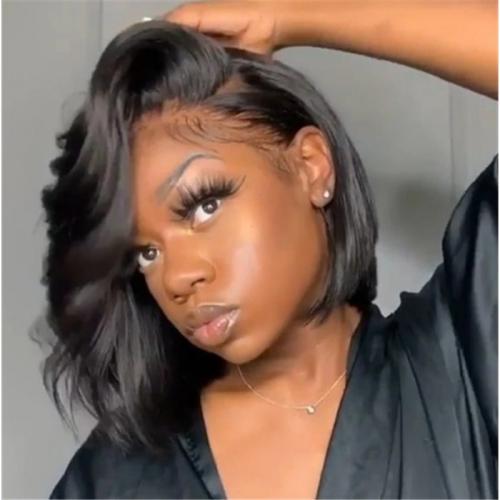 The Curly Layered Bob
For black women with natural curls or those who love to embrace their curly hair, a curly-layered bob is a fantastic option. This hairstyle combines the beauty of curls with the elegance of layered bobs, creating a stunning and eye-catching look. The curly layered bob adds bounce, definition, and volume to your curls, giving you a head-turning hairstyle.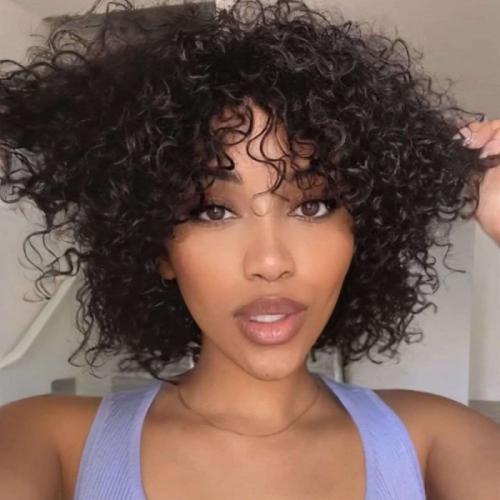 The Pixie Layered Bob
If you're ready to go short but still want the versatility of layers, the pixie layered bob is worth considering. This haircut features short layers that add texture and movement to your hair while maintaining a chic and feminine appeal. The pixie layered bob is a bold and trendy choice for black women who want a modern and stylish haircut.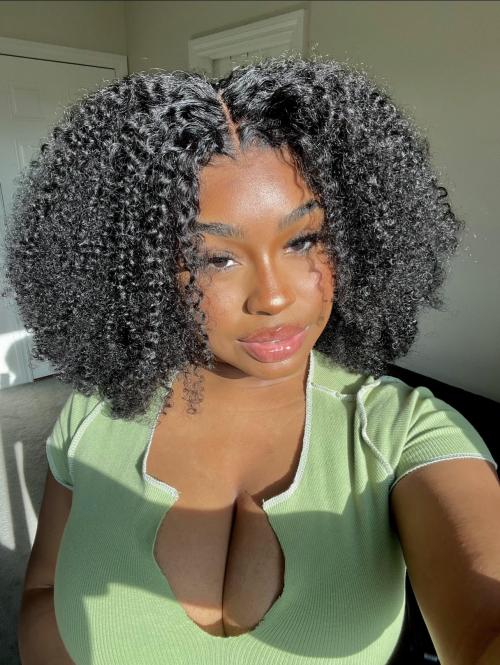 The Blunt Layered Bob
For a sleek and sophisticated look, a blunt layered bob is an excellent option. This haircut involves creating sharp and defined layers that frame your face and give you a polished appearance. The blunt layered bob is a versatile style that can be worn straight, curled, or with a slight wave, making it suitable for various occasions.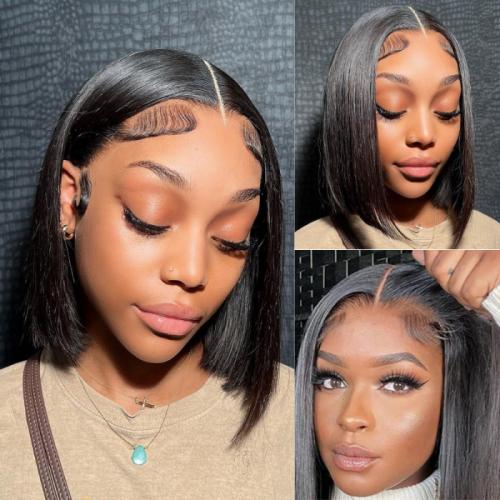 The Colored Layered Bob
To add a pop of color and vibrancy to your hairstyle, consider the colored layered bob. This haircut involves incorporating vibrant shades or highlights into your layers, creating a unique and personalized look. From bold reds to vibrant blues, the colored layered bob allows you to experiment with different colors and express your creativity.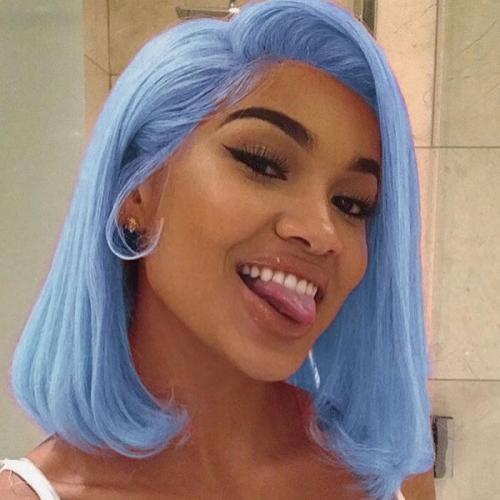 Styling Tips For Layered Bob Haircuts
Use a volumizing shampoo and conditioner to add lift and body to your hair.
Apply a styling mousse or a texturizing spray to enhance the texture and hold of your layers.
Use a round brush and a blow dryer to create volume and movement while styling your bob.
Experiment with different hair accessories, such as headbands or hair clips, to add a touch of personality to your look.
Regularly trim your layers to maintain the shape and freshness of your haircut.
Conclusion
Layered bob haircuts offer endless possibilities for black women who want to revamp their hairstyle. Whether you prefer a classic and elegant look or a bold and edgy style, there's a layered bob haircut that will suit your preferences. Embrace your natural beauty and rock one of these fabulous hairstyles with confidence and flair.
FAQs About Bob Layered Haircuts
1. How Do I Choose the Right Layered Bob Haircut For My Face Shape?
When choosing a layered bob haircut, consider your face shape. For example, a classic layered bob works well for oval faces, while an angled layered bob complements heart-shaped faces. Consult with a hairstylist to determine the best haircut for your specific face shape.
2. Are Layered Bob Haircuts Suitable For All Hair Textures?
Yes, layered bob haircuts can be adapted to suit various hair textures, including straight, wavy, curly, and coily. Your hairstylist can customize the layers to enhance your natural hair texture and create a flattering look.
3. How Can I Maintain the Volume and Shape Of My Layered Bob?
To maintain the volume and shape of your layered bob, use lightweight styling products that add texture and hold. Regularly trim your hair to remove any split ends and keep your layers looking fresh.
4. Can I Color My Layered Bob Haircut?
Absolutely! Coloring your layered bob can add depth and dimension to your hairstyle. Consult with a professional colorist to choose the right shades and techniques that will complement your skin tone and enhance your overall look.
5. How Often Should I Get My Layered Bob Trimmed?
To keep your layered bob looking its best, schedule regular trims every 6 to 8 weeks. Trimming helps maintain the shape and health of your hair, preventing split ends and promoting growth.